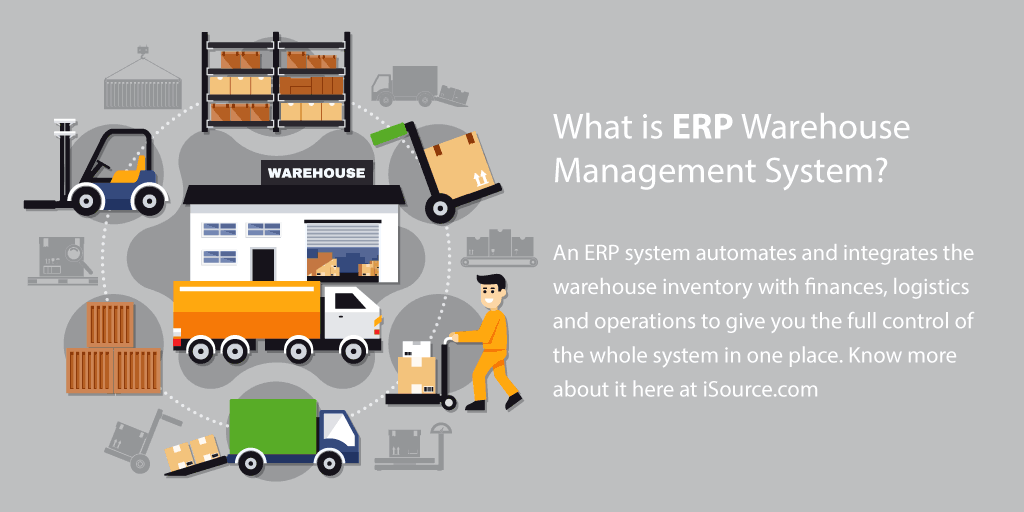 What is ERP Warehouse Management System?
For an organization its very important to keep the things in control so that they can do cost optimization. These days there are different softwares in the market to control the cost and improve the efficiency of the organization. Among this software, there is ERP and WMS. But most of the people get confused among the two.
So let's put some light on ERP and WMS and then we will come to know in detail how these are being used simultaneously in the organizations.
The Warehouse Management System (WMS)
It is used to control material handling and transfer of material in the organization. The machine records the movement of every stock object, such as the item, selected, packaged, and delivered. The significant difference among WMS or ERP would be that WMS programs provide an analysis of stock based on actual-time information.
Data get created to display the best place for each object to get positioned based on historical trends, including details. WMS are typically stand-alone programs, requiring additional components such as reporting and customer interaction management. Isourse's one such WMS software that even has an app is called IsoPronto.
What is IsoPronto?
Isopronto is an electronic warehouse management system that gives you a complete visibility of how things are working in a warehouse. As a warehouse inventory, you need to feel in control from the inbound to the outbound of an article. This proprietary application has been developed using JIT technology and based on the HHT based operation. Some of the features include real time inventory, integration with first and last mile logistics players.
Enterprise Resource Planning (ERP)
It is a program that automates operations across all areas of an enterprise, like finance, relationship management control, and supply chain management. The ERP program primarily enables the information flow across all operating fields. ERP technology has many of the features of WMS software, such as recording products obtained, packaged, and delivered.
ERP is, indeed, an advanced system that all-in-one approach. It is important to remember that it is counter-productive to get more than one software operating the project. As we all know that more applications lower down the productivity and efficiency by duplicate files
What is the ERP Warehouse Management system?
ERP and WMS come under supply chain management, which continues to help companies handle their inventory in the most competitive manner possible. The information requested based on actual-time data in several ways and handled on-site or even in the cloud. Each scheme and module comes along with its starting price–from several hundred of thousands. While ERP software would include specific WMS capabilities, the functionality offered is not as comprehensive as the complete WMS–though, ERP technology is often all that needed for minuscule-medium wholesale or distribution companies.
The warehouse management system is costly than ERP software, but be sure you use the correct terminology while talking to suppliers–any need for warehouse administration, delivery, collecting, and product functionality are separate from any real WMS software. It's not like that every warehouse requires a WMS–it is for complicated tasks, and also the initial and continuing expenses are quite high. Most ERP solutions have had the core features of WMS systems at a slightly lower price.
A sound ERP system will be able to fulfill most inventory specifications, like simple warehouse operations, like a stocking, packing, etc. at a much more reasonable price. There will be different levels with inventory control tools, and it is best to accept business requirements while looking for solutions.
Features of ERP WMS
As you could expect, ERP inventory control systems are to empower businesses to manage not only inventory but all business procedures from a single place. Several of the additional aspects of the inventory control framework of the ERP involve are as follows:
Inventory tracking and control
Distribution and purchase order processing
Multi-channel order execution
Supply operations and inventory movements
B2B eCommerce applications
Transaction portal features
alignment of eCommerce, billing, distribution and other operational resources
Intelligence reports or analyses, etc.
Benefits of ERP WMS
Here we are listing a few of the benefits of ERP WMS that will lead you to comprehend all uses in broadway. The potential benefits of ERP resource management will be far-reaching:
Improved efficiency – There are significant time-saving consequences for the use of an ERP inventory control program. Managing processes using a centralized system not just to eliminate double-handling but it also makes it possible to simplify everyday tasks. It leads to an increase in output and a much more accurate performance in less moment.
Price savings – Each business owner understands that productivity is equivalent to cost savings. Instead of paying for differentiated resources or programs to handle different parts of the company, ERP inventory control systems manage many moving parts concurrently, reducing the overall workload, and reducing costs.
Transparency in Supply chain – Increasing numbers of businesses will use shipping suppliers or 3PLs to outsource their transport and distribution requirements. Your ERP inventory control system allows you to collaborate with your stakeholders and ensure that all processes interact with one another. Inventory, order, and delivery details get coordinated around the production chain.
Reporting Accurate data collection – With main stock, order as well as custom upgrades at a single place, ERP inventory enables quantitative data collection. Most structures would also allow you to change and save bespoke inventory and revenue reports to monitor financial performance and development plans.
Difference between ERP WMS and WMS
The main difference among warehouse management systems or enterprise resource planning was that WMS is indeed a stand-alone process that needs assistance from much other extra software, and ERP is the all-in-one approach. Nevertheless, unlike with warehouse management programs, ERP does not provide an analysis of products dependent on details in real-time. ERP does not have the opportunity to produce reports based on past patterns and statistics to determine the best position for each product element.
Build the option – Deciding how an ERP system or perhaps a warehouse information system is best suited to your company, your strategy, and your long-term goals can be complicated. When making your decision, you should remember two controversial things:
Define explicitly the long-term priorities of your company, such as the measurable results that you want to accomplish, and the practical criteria that your company needs in either a management platform to achieve the defined, quantifiable results.
Define the long-term goals and the required functionality of your program, and then try to balance them against both the costs of deployment and installation to evaluate the financial return for each framework.
Once you have calculated your financial return for each solution, your decision is whether to execute a WMS / ERP scheme becomes much clearer.
What type of system do companies should use?
Not that many supply chain choices have more effect on the day-to-day processes, client relations, or financial health in your company, finding and introducing the best inventory management program is an art. The primary question is whether to select the right storage module of the ERP program or the advanced finest-of-breed WMS.
The distinctions between conventional Enterprise Resource Management and Warehouse Management System vendors are increasingly blurring. Most ERP providers improve the flexibility of their applications, although most WMS vendors provide insight into the value chain as well as other management abilities.
When Chief Financial Officers (CFOs) had to choose between a modern WMS and adhere to the same ERP feature, they would choose the latter. On the other side, the Chief Operating Officer (COO) is searching for solutions that are flexible, multi-functional, or danger-averse, which means choosing the finest-of-breed WMS. Unless the decision taken by a Chief IT Officer (CIOs), are most concerned with either the workload, the expertise of their IT workers, and existing equipment resources. But the judgment on WMS / ERP is far more complicated than anyone who is in control of the program.
It is a collective effort that combines the interests of management, IT, and activities to the enterprise. Your selection process will concentrate on the enhancement of business value and the accomplishment of significant performance targets. Two factors are crucial: obviously and thoroughly defining its long-term objectives of your business and applicable criteria, and aligning the goals with the fees of implementation and assimilation.
Most organizations wrongly assume that installing the current storage element in their ERP program is cheap. It is a long way from the facts. Ask someone who has followed this method. You can not presume that somehow the warehouse element will be tightly aligned with all the other aspects of your ERP program, leaving specific data, such as material processing facilities, on its own. Test these variables: what is the expense of shortcuts to account for the lost interface? So what's the potential impact on customer relationships? You can realize that somehow the free warehousing module which comes to your ERP is not free.
Conclusion
Both of the ERP or WMS programs are essential elements for the supply chain management intended to help companies handle their resources in the best way possible. They offer details based on actual-time data in a variety of styles, and it can be processed on the cloud as well as on the computer.
There may be different levels in inventory control systems, so it is essential as an organization to also fully understand its development needs whenever choosing a particular scheme over the other. Thus as every organization's objective is to grow and earn good revenues, custom very important to implement the best software so as to improve their efficiency and output.