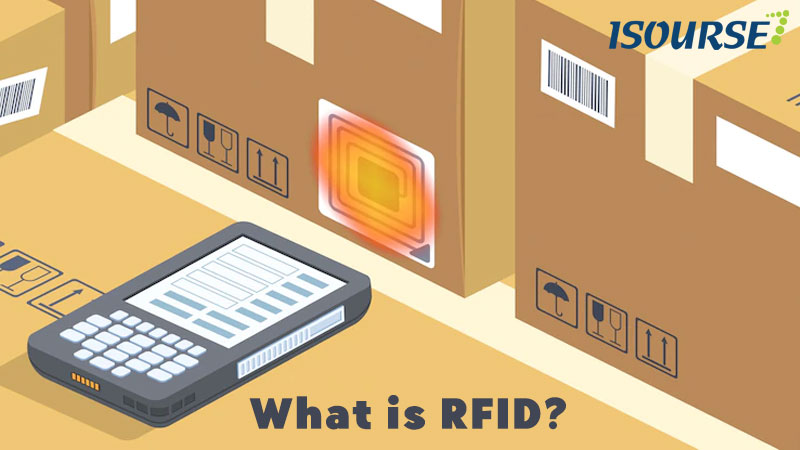 What is RFID? Top 9 Reasons you Should Use RFID in Warehouse
Radio Frequency Identification (RFID) software had been in use for several decades but explored lately that RFID can be used to the maximum potential. RFID and radio-frequency authentication is a device that transmits identification wirelessly in the form of a specific serial number of an object. RFID, a type of Auto-ID technology, is being used to minimize time and labor and increase data quality in real-time.
Storage activities, like the management of warehouses and structures, have become more complicated in the supply chain. RFID warehouse management system sometimes needed to carry out daily logistics activities, including stock holding, order status, document delivery, sorting, RFID product tracking, loading / offloading, and customer support. Inefficient use of valuable warehouse space, human mistakes, inaccurate description of the commodity during delivery & shipment, placement of goods in the warehouse will affect the competitiveness & performance of the company resulting in credibility & losses. Thus an organization has to implement efficient software like RFID systems to handle any such kind of tedious things.
Thus RFID or beacon wms system is not entirely new; further companies are adopting it every year as tech remains to grow up and evolve. That's because the applications of RFID technologies can work across a wide range of industries, from hospitality and hospitals and shipping and logistics. Each sector has its requirements that the rfid inventory system is trying to meet. For starters, stores sometimes use RFID labels to monitor the quantities of clothing in stock in each shop.
What is RFID?
RFID / radio frequency identification is indeed a device that communicates wirelessly in the form of a specific serial number of the object. RFID, a type of Auto-ID software, is used to minimize time and work and increase data quality in real-time. Generally, the RFID inventory tag comprises a microchip connected to a radio antenna that gets installed on to the surface. The system ties goods to the Web for future references, so that knowledge can get exchanged with businesses throughout the supply chain.
The two types are passive and active RFID devices. Passive RFID labels do not have transmitters but reflect away the radio signals that come from the reader antennas. Active program RFID transponders (the microchip with such an antenna) positioned on products, and the information was accessed to use the reader to transmit the data to the laptop. RFID tags used in significant assets, like freight boxes, rail cars, or containers that need to get transported over great distances. Passive RFID stickers lack energy sources and transmitters, involve no maintenance, and are less costly than RFID tags.
Advantages of using RFID
1. Enhance asset visibility
Imagine trying to find everything you have ever forgotten or damaged. RFID processing is what you need for asset monitoring. The most fundamental advantage of RFID tracking is the simplicity and importance of improved availability and identification of products. In many other words, RFID tags could be read from all over the plant so that workers can automatically know the identity and number of each package–and will provide the condition or position of the product which has already left the plant.
The rfid inventory management system increased awareness allows supplier companies to resolve issues that result in significant improvement from poor leadership, misplaced equipment, oversight, or error during mechanical processes. Not to mention, it lets you make in - the-fly decisions and facilitate changes through quickly routing items.
2. Reduced Capital price
Rfid warehouse management solutions help reduce costs by providing better monitoring of supplies or inventory. They help to keep track of corporate assets, including test equipment, freight packing, information technology, and other mobile devices.
3. Better Security
RFID-based access control solutions add to enhanced security for business premises. RFID labeling of stock or goods makes it much easier to detect stock "shrinkage," or tags can also get used to combat counterfeit products.
4. Increased Revenues
By minimizing stock-outs or by eliminating the credibility gap between the available national stocks for deliveries along with the actual stock existing in the shop can get minimized by providing more excellent details on inventory trends to consumers.
RFID-based companies could provide a service that offers comparative advantage and encourages enhanced customer satisfaction with either the prospects for increased sales and higher sales.
5. Shorter Processes
Since RFID technology can get combined with other production or supply chain innovations (automated pallet processing, product collection systems, and so on.), the time between the order of shipping and distribution can be noted.
6. Enhance employee productivity
As stated above, RFID technology may not require companies to identify an object or commodity within the field of vision. We no longer need to waste time on labor-intensive tasks such as inspecting specific barcodes, looking for lost instruments or supplies, or recording product numbers.
It enables them to improve the speed of the task or operation turnover to minimize labor or transport costs. It also enhances the overall efficiency of the facility. It is incredibly tricky and time-consuming to produce and ship products in such an unorganized unit.
Elimination in manual procedures, together with increased stock and visibility of assets, makes it possible to eliminate human error as well as an oversight–stuff that takes considerable time to fix.
7. Improved the Regulatory Compliance
RFID also controls whenever devices have been inspected or even restrict even their movement may be part of an approach to address health or safety concerns or to fulfill insurers or regulators to get followed.
8. Relevant, More Accurate, Current Management Information
Since RFID enables data to be recorded in real-time as the stock or resources moved to detail, up today-to-date management data is available for the plan and operational management purposes.
9. Theft and loss, Mitigate risk
Rfid product tracking, supplier facilities may obtain quick access for inventory and position data to keep track of when goods get transported, delivered, or replenished and also validates orders – no longer where they were in the value chain.
That kind of exposure leaves room for mistakes or bad play. By monitoring the motion of each resource in your unit, you may ensure that certain items as pallets were accounted for to minimize costly risks–minimize maldistribution as loss; combat forgery and extortion, and promote recall. It is incredibly important to prevent such errors where possible, and not only will they require money and time to correct them; they may end in litigation, hefty fines, or even the failure of the client.
Supplier employees should not get concerned that a required tool and piece of technology has mysteriously disappeared or, scarier, that this has been incorrectly as well as inadequately disseminated. With complete visibility or real-time data in your inventory or assets, your facility is much more structured and efficient–and thus more financially viable.
What are all industries using RFID?
Radio-frequency identification was used for defensive tactics since the Second World War, and is now increasingly available and gets applied in sectors such as pharmaceuticals, manufacturing, transportation, transport, and farming. RFID may get used in a variety of ways to add value. There are many exciting and commonly used RFID apps.
RFID is indeed a system that provides portable radio frequency identification systems for monitoring purposes. RFID has every benefit, including the lack of personal interference required and reduces the cost for specific industries.
RFID introduced in chain management, stocks get easily controlled, and operational costs get minimized. Wal-Mart, the world's largest store, uses RFID to boost supply chain productivity to guarantee all items are in order and satisfy customer requirements. Wal-Mart has implemented the automation for just-in-time deliveries of products.
A warehouse control system will find the goods in the warehouse based on the oral swab and automatically refresh it to the parking garage for shipping to a retail store.
Production RFID could get used to monitoring components and progress during most of the manufacturing process. Through introducing this method, businesses may decrease the number of defective products, improve distribution, and control the output of various versions with the same commodity.
It is in the aerospace and automotive industries. For instance, AM General utilizes active RFID because of its new golf carriage assembly line to reduce the time it takes to create every vehicle (from 88 mins to around 46 minutes).
Pharma Use of RFID in this field was a great challenge that began with health centers seeking to improve supply management. Then it was implemented in many other ways, including adapting its system to ensure that perhaps the FDA guidelines were met and encouraging any use of RFID to biologics.
For starters, Hanmi Pharmaceutical marks 60 million items each year, streamlining processes, avoiding counterfeit products, and improving traceability during its supply chain.
Its applicability in RFID is detailed and get targeted at new branches. RFID allows companies to boost the legitimacy and lifespan of their goods and tends to make the food and pharmaceutical industries safer, as well as the automotive industry much more productive.
Conclusion
Thus Organizations use RFID systems to control the delivery of medications in hospitals. Shipping companies use RFID each day to build an up-to-date record of what being placed on and withdrawn from their vehicles. So, can RFID help you with your business? The answer is yes, it will be a great help to your organization.