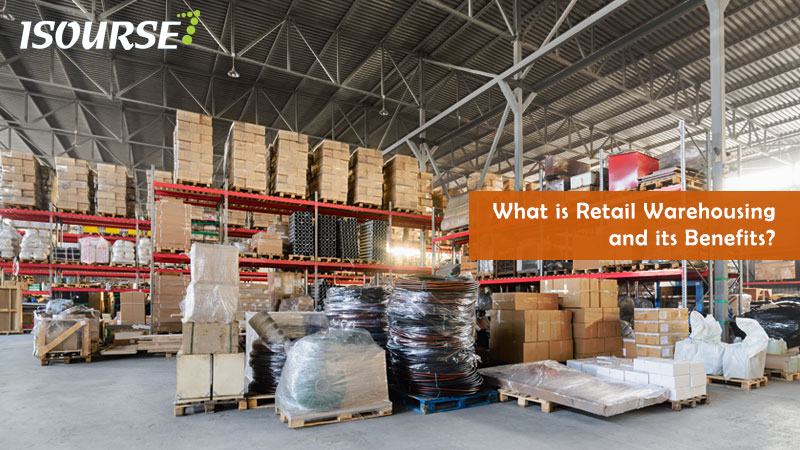 What is Retail Warehousing and its Benefits?
The concept of a retail warehouse arises from the gradual decline of accessible warehouse space throughout the United States. As per the Wall Street Journal, stores across the nation are facing a lack of storage capacity. The reduced capacity zone and the inability to meet the demand for e-commerce to restarts the order processing.
Nonetheless, a new trend is taking place as developers around the country make store-to-warehouse transformations, and supplier executives need to consider what a wholesale warehouse is about and how it will affect sustainability and efficiency. Warehouses are vastly used in the retail sector to provide the goods as per the demand. It's well said that warehouses are the backbone for the companies and retail stores. It's in great demand in the market and is vastly being used.
What is retail warehousing?
Retail warehouses are big, single-level shops, generally with a limit of 1000 square meters of net retail floor space, primarily selling home improvement and gardening products, appliances, electronic goods, carpets and so forth. They are usually found on the outskirts of cities or the outskirts of town.
As per the David Sparkman for Material Handling & Logistics, a general merchandise warehouse provides an advantage to companies seeking more storage space to increase production for e-commerce. Retail spaces have the power to be available always, most of the conversion projects presently underway get located in industries in which the vacancy rate of existing storage space is 5% and less.
In relation, many centers face a strong demand from corporate property investment providers to recover profits. As a consequence, traditional retail centers that have been abandoned for months/years might be available at prices lower than the conventional industrial rental rate.
According to Matt Leonard the Supply Chain Dive, retail shops are just an excellent chance for companies looking to adopt the e-commerce revolution as well as expand the value chain. Several of the major benefits associated with all these conversions and also the increasing popularity of retail warehouses of urban areas have included the following:
The new installations are a blank canvas.
Increase the distribution of local and regional stores.
Freestanding services offer dock gates, clear heights consistent with industrial use as well as ample parking space.
Improved competitive edge for omnichannel requirements in niche markets.
The regeneration of distressed urban areas, including those where Target left the city.
Have a central storage area
A centralized area for all the storage needs helps to reduce its production gap. This implies that you can easily receive, shop, distribute as well as ship products to save cost and time. For starters, a warehouse next to a parking garage is suitable for obtaining and processing products from distributors. For the next company, a store all over the center of the city can assist them readily distribute mail items to the clients.
Thus, Retail stores will be the next way in which companies will broaden warehouse space as well as drive delivery windows down for customers. The sector should feel the impact as more companies are looking for storage space and switch to former retail facilities for use.
For example, taking advantage of retail warehouses would entail the extension of new technology systems, and also the convergence of existing platforms, to improve scalability and avoid the development of data. Figure out what the club needs to do to take full advantage of these developments in transforming storefronts to warehouses utilizing new supply chain processes by contacting Veridian's experts.
A fundamental problem in retail-to-warehouse transformations, recognized as general merchandise warehouses, arises from the recent increase in retail or reduced growth of warehousing. While shops across the nation are going to feel the impact of the advent of e-commerce, shutting down thousands of stores, notes CNBC's Lauren Thomas, the issue remains.
Retail malls are now hollow eyes that commercial real estate companies are unable to learn how to sell. Retailers are also being pushed to reconsider their current usage capacity and understand how a retail warehouse might turn into opportunities to meet the increasing needs of their customers and expand their existing supply chain infrastructure.
Evolution of the Retail Warehousing
The evolution of a sector has led to the development of several different types of sales warehouse properties, with years of development.
Which include:' first generation ' manufacturing units transformed for retail usage;' second generation ' self-made' solus' retail store units;' third generation ' dual-unit retail parklands; and' fourth generation ' clothing parks ruled by a combination of high-street retail styles and sometimes developed to such a higher configuration than regular retail parks.
The supermarket warehouse industry has grown at different speeds across Europe. The UK is perhaps the most established and you'll often find a great line of tenants in shopping malls in popular parks. Nicely-established fashion retailers including M&S and next Gap are well represented throughout the UK retail warehouse industry.
French and German retail stores have also grown, and "fourth-generation" parks have started to grow, like Stefanel, New Yorker, & H&M. The intensity of the sales base across nations varies considerably, affecting the potential for future rent growth.
There have been a variety of tenants of pan-European holdings in several of out-of-town International markets, including Leroy Merlin's house improvement store, MediaWorld's electrical shop, Decathlon's fitness retailer, and a range of supermarket stores, including Takko.
As the market has evolved, the various types of property also established their acquisition characteristics in terms of lot size, profitability, sustainable rental rates, and pricing, with either the newest generation schemes gradually controlling the top levels of rental or occupier/investor demand.
With clear, spacious retail warehouse floor plans include retailers with accessible selling energy compared to city centers, units are usually uncomfortable and often traditional. Flexibility for retail warehouse systems gives good incentives to drive sales densities by reconfiguring stores (new store sizes are becoming more common as competition from regular high street supermarkets has grown).
Despite increasing rental levels as when the sector has matured, general merchandise parks (with either the additional benefit of low service fees) offer stores good property affordability–particularly high-margin "high-street" companies. The generalization of the sector, and that there are, of course, in reality, retail stores that are subreddit-optimal and where the shopping knowledge is not nice enough. They prefer "third wave" shopping parks that address the needs of the highly discerning tenants and customers of tomorrow. They also encourage investment in earlier generation parks that control their catchment area but can be repositioned by refurbishment and m certainly-branding.
While we think that the sector stays fairly priced, the medium-term quality will not be guided by asset re-prices as well as the weight in money, but by property basics, as the economy is improving and we transfer to the stable tenant market and enhanced rental opportunities for growth.
The forecasts underline the disparities between the various types of retail warehouses; secondary gardens are projected to also outperform mostly as a result of higher investment returns on annual income, but pass substantial downside risks on the employment side. On a danger-adjusted basis, prime design parks tend to provide all the strongest rental growth opportunities to surpass.
Challenges and Solutions
The success in online retailers has also been linked to the demise of several high street stores all over the United Kingdom, most lately HMV or Jessops. The remaining retailers also have clear strategies that try to incorporate on-line shopping only with home delivery and are often even further supported out by other initiatives, like as with clicking and collecting, where goods and services are ordered online but again delivered to a very third party service address, e.g. a local independent garage or even convenience store, to try to avoid the disillusionment of missing home deliveries.
The impact of social media over online purchases is indeed a relatively new phenomenon. If, for example, photos of a celeb's new outfit are' trending' on Instagram, interest for doing that (or similar) style can be predicted to rapidly increase online and also in-store sales. Modern warehouse management systems (WMS) need to be agile enough to respond quickly towards this unexpected source in demand and to meet the challenge of promoting market planning, stockpiling and delivery for both store sales and online orders.
Besides, there is also an ever-increasing requirement with WMS to also support several different types of production and distribution strategies within a very single major facility, requiring unique features such as try to cross-docking, consolidation and large bulk packing, tiny parcel packing, speeding up urgent instructions and promotional management. In regards, to more value-added services including further processing in items–for instance, ironing, fold, cooling, bar-coding, combining, repacking, labeling, and so on. –are pushed supply chain or delegated, WMS must be adaptable enough to manage system flows, track the location of goods and capture key information when maintaining full visibility all around.
All this means which WMS software solutions have to be able to manage different business processes within the warehouse, manage priority-based resources, facilitate sophisticated packaging operations or support and extensive return system to name however a few. Taking it one step farther, incorporating WMS into the expanded supply chain, e.g. providers and airlines, is essential to endorse a simplified, time-critical procedure.
Logistics Managing Reverse
Retailers always see a high proportion of yields, up to 22 percent in certain cases. Returns administrators is a complicated process that every retailer should manage in addition to their structure warehouse and production operations, even within the same services and at great cost. When unforeseen events occur, such as the latest horsemeat scandal, product remembers place further fracture on manufacturing, eating significant services and storage.
Every return constitutes a product and must be maintained correctly until the content has been tested, discarded or recycled for online sales, returned to the manufacturer or otherwise handled in compliance with the return policies of the corresponding retailers.
Today's WMS should be able to handle the multiple return strategies or linking each returned product to its initial order to initiate related financial behavior in Master ERP, thereby maintaining an audit trail.
Maintaining Visibility and Managing Complexity
The rise of international trade already has a direct effect on the intricacy of supply chains, that now need to promote multi-layer procedures across multiple supplier partners as well as time zones. The wider the supply chain, the further complicated it is to monitor, particularly where important transactional data is collected and processed on various systems and networks.
Retailers recognize the need to connect insular systems to achieve total-time stock transparency all through the production chain and to manage the procurement and fulfillment systems more actively.
Comprehensive integrated strategies that combine all related processes, like ERPs, WMS, TMS including external business partners, offer complete traceability and auditability, which in turn gives consumers the confidence that they recognize the origin of the products and can monitor them across their supply chain.
Data collection and monitoring around the entire supply chain was key to success for competitive benefit. Absent visibility, distributors are extremely vulnerable to any disturbance of the supply chain and are unable to adopt effective replenishment plans to handle unforeseen events. Collaboration amongst all Supply Chain Partners becomes necessary to allow to provide a comprehensive picture of all products in-store or in transit, from shipment to manufacturing and delivery confirmation.
The more knowledge the company has accessible in real time, the better they will adapt to incidents to ensure that they often address the needs of their clients, whether the shopper throughout the supermarket or the shopper a home.
Conclusion
Thus Warehousing has been around for years but has supported companies address different storage requirements. Now, a factory is not just a storage unit. Many companies offer extra services to automate the entire supply chain network. It helps create time-effectiveness because products are only published when they have been needed. So, if you just want to control and track the manufactured goods, finished products, etc. Warehousing is the best option. With time it will increase and expand its wing all over the world.