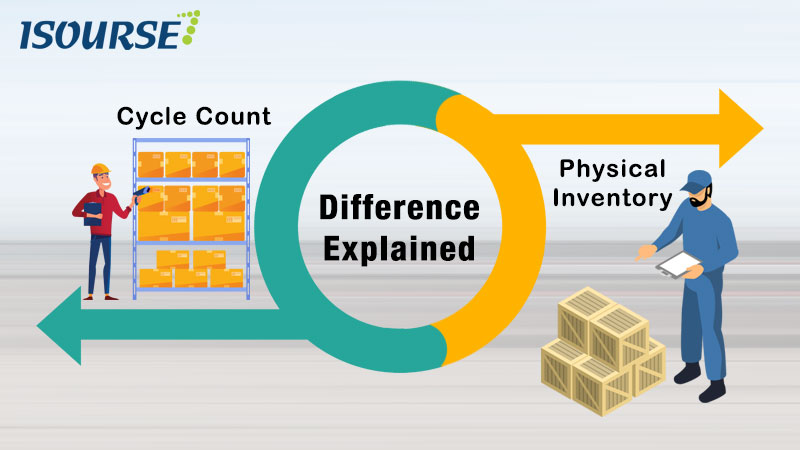 Why is Cycle Count better than Physical Inventory ? Difference Explained
What is cycle counting? A Warehouse Cycle Counting is an inventory audit method used for the inventory control solution. Under this procedure, a limited subset of inventory at a particular location gets measured on a specific day. Cycle Counting Method is indeed a popular inventory control solution that allows businesses to rely on different items inside the warehouse without collecting the entire stock. It works because another number of items get counted for the whole warehouse. When an error detected in this sampling procedure, it may also get assumed that there will be errors for specific products in the factory. Three types of cycle counting are as follows:
Control Group – This method used to count products that deliver the best results but will focus on a small number of products that are counted many times over a shorter period. The repeated counting process can reveal any technical errors. If there are any errors, they may get rectified. The control group process shall get repeated before the method is precise.
Random Sample – This method of loop counting is described by counting the selected items in a random form. If a warehouse does have a large number of items, the random quantity may be chosen to get recorded. It could be done on even a daily basis so that a large percentage of items throughout the warehouse can get numbered in a shorter period.
ABC Analysis – It is an alternative method in the random numbering of samples. It based on the Pareto principle, which states that, in several cases, about 80 percent of the impact comes from 20 percent of the whole causes.
What is the physical inventory counting?
What's the importance of a physical inventory? This method is the real calculation of the goods and items that the company owns. It means that the figures reported in the company's accounts refer to the total number of objects on the sales floor, the inventory, and storage. This in-depth count usually has done once a year, but shorter sample estimates many times a year. Actual inventory reports may be required to comply with tax specific financial accounting laws.
This method is maximum time-consuming, compared to larger businesses with more goods; however, with the implementation for inventory management as well as automation systems, the tracking and counting method has become much more straightforward.
Here are a few essential tips to make the physical inventory process successful:
Put count dates or notify all employees.
Determine who does the tallying (pair a skilled leader to qualify and a trainee to track the quantity).
Order the necessary equipment.
Take the opportunity to clean & arrange the warehouse.
Breaking up the going to count process that makes it more sensible.
Produce a map of a warehouse to assist your combos.
Divide the counters through particular areas.
Count quite so many parts as necessary until the scheduled count deadline, and label get counted to discourage double going to count.
Ship all the products you have to ship until the physical count starts.
If you want to understand more about the benefits of our inventory management system or would like to help improve your store operations, APS Fulfillment, Inc. may help. The experts offer strategies to the customers to address the needs of a distribution company. They supply services like true-time inventory management, e-commerce satisfaction, direct marketing, fulfillment alternatives, compliance markets, and much more. There will be endless advantages of working with a third-party logistics business that uses the highest quality software applications to manage the warehouse, but if you're searching for the right firm, look no farther than the APS Fulfillment, Inc.
The difference between cycle counting and the physical inventory counting?
Now when you can see the difference between cycle count and physical inventory, are some significant advantages from each so that you can make an informed decision about which option is correct for you.
Cycle counting is beneficial if you're looking for a much more price-effective solution. There were fewer interruptions of operations and much less complexity, because the process may not take so much time. As either a result, cycle tallying saves a lot of money and enables for such a yearly review of each brand segment.
The best option for companies with a reduced product is to have an annual physical list. It enables you to begin a new year with the clean slate; the system ensures a more accurate and precise product count as well as maintains focus while keeping inventory only as a priority. If your company has a vast amount of stock, this choice would be more time especially-consuming, less versatile, and will lock the inventory so that you can't operate as usual.
The benefits of cycle counting over physical inventory
Cycle counting a practice of measuring a limited, fixed number of items and services often rather than carrying out a complete physical inventory once per year. Active period counting needs a certain amount of SKUs to get counted every day, and each SKU to get calculated at the specified frequency. The Board of Supply Chain Management Experts describes Cycle Counting as something of an inventory tracking and management activity that applies to a series of regularly scheduled inventory counts (generally daily) that "runs" into your product.
Users can decide how often these objects or positions get reported using frequency and dollar amounts separated into "ABC" groups. The main idea underlying the cycle track is to find the documents which are in error to find the cause of the error. It is a significant difference to be mindful of — that perhaps the goal is to fix the origin of the mistake and not necessarily correct the problem itself. Organizations that struggle to detect the mistakes and do not find the cause for it is failing to achieve effective inventory management which can lead to lower operating expenses.
Commit and get Rewards - You have to get committed to performing smaller weekly inspections to succeed in a cycle going to count activities. Cycle tallying can start taking time in the early stages, however, the payoff can be significant as a corporate strategy for just one year. Conducting every day or week period counts means how each item gets recorded and monitored promptly. Some of the results of period counting are as follows:
Reduced prices - Business activities are no matter how long interrupted by complete-scale inventory inspections - saving personnel costs as well as avoiding downtime.
Enhanced Accuracy - Warehouse workers can identify and correct incorrect data like misplaced and lost inventory. It leads to higher consumer satisfaction by enabling the team to report immediately onto the availability of the item.
Reduced loss - Cycle counting implies more real-time tracking and prevents inventory slippage–or product reduction due to theft, harm, or expiration.
Observations to your business - by knowing how the product continues to flow during your warehouse, you may determine when the products are conducting well and extended well. In relation, you may make better choices, including when to reorder the SKU and when there is surplus inventory.
Operational Efficiency - Fewer differences in inventories means fewer exceptions of handling and much less time to find for erroneous products.
Conclusion
Thus cycle counting leads to more accuracy and is a fast process. This will also make organizations flourish and save their cost.