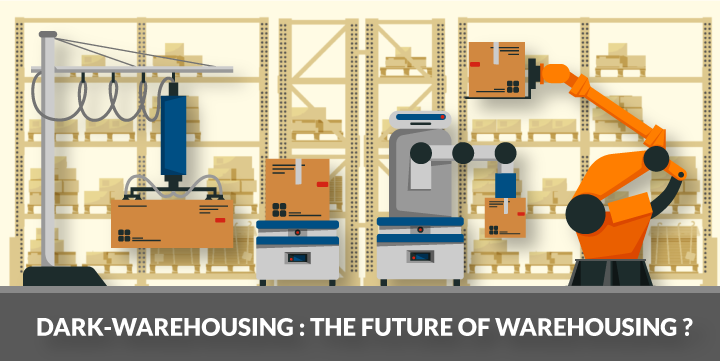 What is Dark Warehouse? Everything you need to Know about it
The demand for efficiency improvement in warehouse operations is an all-time high. Warehouse administrators often face challenges in attracting and maintaining the right team, as well as increasing pressure from both consumers and shareholders. One of the possible ways in which warehouse administrators can improve efficiency is by the introduction of dark warehouses. Look more closely at the dark factories and what they mean for the rest of retail operations. In dark warehouses, the work is done by the robots and there will be automated control systems that will control the whole process. The word "dark" means that there is an absence of human labor.
Dark warehouses are floor-free warehouses as well as assembly lines — are among the most lucrative or developed Internet of Things (IoT) apps. NewtonX surveyed 30 executives, CEOs, Chief Technology Officers, along with government officials who were engaged in the deployment. The growth of warehouse robots throughout the U.S., to report in the development of dark warehouses, the economic consequences of dark warehouses, and also to gauge worker's feelings for increasingly globalized stateside production. Dark warehouses are the latest trend in the market and are used to save the cost of the organization.
What is the dark warehouse?
The idea of a dark warehouse may sound like a light-out building, saving energy, although its real implications are broader than that. As per the Ben Ames of D.C. Velocity, darker warehouses apply to full automation of material processing facilities, warehouse execution processes, and automated product and shipping recognition. The term' black' refers to the lack of human input into the building. In many other words, computerized systems would still not necessarily need lamps to function so that the warehouse could operate in the dark. Sadly, dark warehouses remain obscure in modern warehouse administrators. Automation has always led to the success of the organization. The work becomes faster and gives great results. The dark warehouse is full automation for material handling and which saves money and time.
How does Dark warehousing work?
The dark warehouse is an automated retrieval and storage system with high efficiency. More efficiently, robots are capable of communicating with one another. Where before automated warehouses comprised of stationary robots conducting routine tasks, robots now can obey complex series for interlinked "jobs" based on data sent from detectors and "triggers" to perform, if-then-that number of tasks.
The system is built on an automated WMS system. Managers have to think of how integrating the system and taking out the advantage of the automated processes. NewtonX executives and CEOs of companies utilize dark warehouses (as well as semi-dark warehouses) and calculated that they have reduced costs around 15-48 percent— the domino effect which the experts recognized doesn't bode well enough for unskilled workers. Whereas the number of people employed in non-monitoring jobs in transport and logistics has risen by 400,000 throughout the last ten years, analysts have described this as a pattern representing the change from bricks and mortar to e-commerce.
The relative employment for retail sales employees gets expected to grow by just two percent within the next ten decades. Job growth throughout the warehouse and transport industries is already on the rise. Still, specialists note that, at the very same time, jobs in many other areas cater to the same demographic were shrinking.
And if the darkened warehouses are still as productive as they were at the moment in reducing operating costs even increasing productivity, the future for unqualified warehouse workers is rather grim.
The standard economic theory claims that expanded productivity results in a change of labor- unskilled workers shifting from sector to industry. Of example, although manufacturing jobs have declined, warehouse jobs have increased. Nevertheless, increased automation of factories often impacts a big production: trucking and shipping.
Today, trucking jobs are worked by millions of Americans who spend an average of $42k each year— even more than the average salary for several unskilled jobs (retail staff receives only $20k). When dark factories eliminate the need for supply trucks, another source of unskilled labor will be limited.
However, NewtonX specialists have noted that worker satisfaction may have improved with increasing automation. Work standards in factories (despite Amazon) are much better. For "heavy lifting" machines, employees no longer notice issues for carrying thousands of pounds for items a day, health issues of traveling upward of 20 miles per day, and so on.
But the superiority of the intellect over the bodies exacerbates the gaps between the social classes. The dark warehouses of potential may be an exciting technological advancement, this increases the profits for companies, and from a societal perspective, they pose a host of alarming job issues. The process is very simple and easy to follow. Thus the dark warehouse brings profits to the company.
Why Do I Need a Dark Warehouse?
Dark warehouse involves some cost to get install in the origination but at the same time after it starts it leads to profits. And it isn't just the energy burden of the torches if you're running the factory in the night. But robots also reduce staffing costs. While some workers are still required to control the operation and to handle the procurement of products and the packaging of orders, there is no need for an agent to pick up.
Many workers will be needed to maintain equipment, however, the automated facility requires much fewer staff than the traditional warehouse, resulting in a significant reduction in overall labor costs. The higher productivity of robotics will further improve efficiency. Robots wouldn't take meal breaks, or talk idly at a water fountain, nor chill near the end of the day. We will work 24 times a day, seven hours per day.
The automated warehouse often optimizes storage space. Storing supplies in bins piled on one another and reached from above by machines removes any need for aisles throughout the factory. It ensures how you can save an even larger volume or range of items. Also, the land and building room you need is much less–and therefore less expensive. In fact, with a smaller facility, facilities do not always need to be located in locations outside the region. Smaller factories can set up near to, rather than inside, towns and villages, raising the cost of transport.
Prerequisites Required For Dark Warehouse
If an organization set up the dark warehouse, warehouse management must ensure that a few measures are in place, such as:
Automatically generated storage and recovery system – The evolution of mechanical storage and retrieval devices, varying from conveyors to shelves, leaves no room for human operators. Methods will work best in fulfillment centers as well as those who try 56Tnsfer a large volume of material.
High-speed processing devices – To run the dark warehouse, a high-speed processing machine must operate independently of human intervention to move goods and freight throughout the facility. The device would need to search shipments for details on its target or bin place.
Take full advantage of Automation and Modern Technology
The street to automation was built on embedded WMS and supply chain systems and also an understanding of tools and information available for streamlining production. Robotics needs to have a single, dedicated basis to function. Warehouse administrators will start thinking as to how to implement structures and taking advantage of automated systems and technology at their warehouses. Veridian may help warehouse managers traverse the process.
Similarly, this kind of grid stacked device is entirely scalable. If you want to expand, you may simply add further crates to a network i.e Internet of things, Big Data or Automation should converge at the convergence of warehouse management technology to build intelligent, flexible processes.
Automated backup and retrieval facilities – Automated storage & retrieval devices are "lights-out" through nature because their intricate patterns of conveyors, containers, and racks leaving no room for human operators to access a working unit, Cognex's Engle stated. AS / RS systems work best in warehouse or storage facilities that handle high amounts of product going into and out of storage. Most of these may even arrange, list, and buffer items for activities such as people-to-person processing, order fulfillment, including temporary and lengthy-term storage.
High-speed processing devices – Heavy-speed sorting machinery is another management device ideal for lighting-out operations. Such robots carry goods and services to various locations in the factory. They can operate independently from human control; such sorters typically require human help only to continue to position items at the inbound edge or to track the incoming path and other outbound positions, Engle said.
Steps To Make A Dark Warehouse
The very first process to set up a dark warehouse was to review your business carefully. You have to examine whether automation benefits will be there or not. You need to check the cost savings and productivity improvements that could make. Automation isn't a drawback to many factories. And in buildings with a massive volume of goods get processed so delivered, quality and cost savings are apparent.
The next move would be to explore automatic storage and retrieval schemes. Of your service, it could be that your requirements are comfortable, with a conveyor system, or through robots that distribute chosen goods to packers. Or you might have a type of company that would profit from either a complete-on Ocado-type solution.
Next came the design of the integrated system. You have to connect equipment such as robotic arms, conveyors, shelf sensors, or self-guided robotics to the technology that allows them to work and able to speak to one another. It would generally involve integrating the Warehouse Control System (WCS), the Warehouse Management System, as well as the Enterprise Resource System.
If you would like some assistance to dark warehouses, our warehouse experts are skilled in developing solutions that connect software and automation interact.
Drawbacks Of A Dark Warehouse
A further hurdle to the widespread adoption of light-out systems is the need for certain D.C.s to stay robust. Creating a wholly automated facility to accommodate a specific type of product will make sense for e-commerce enforcement centers that distribute a wide variety of items to online stores or third-party companies (3PLs), which serves a constantly changing customer base. As warehouse providers are looking to expand these atolls of robotics into the full-scale lighting installations, they were focusing on the three critical systems that behave as muscles and brains of computerized D.C.s:
Instead of promising to construct an utterly dark plant, certain forms of activities may create control areas, incorporating dark capability for certain building automation activities.
"There are now dark functions within in the warehouse, like AS / RS or systems that move components from pick-up places to racks," Ashodian retorted. "Each of them is like some kind of dark facility within such a unit."
Robinson states that some analysts say the system will eventually contribute towards dark warehouses. He says, "The idea of a dark warehouse may sound like a light-out building, saving energy, although its real implications are broader than that. As per the Ben Ames for D.C. Velocity, darker warehouses apply to full automation for material processing facilities, warehouse execution processes, and automated product and shipping recognition.
The term' black' applies to a lack of human insight into the building. In precise words, computer systems would still not necessarily require lighting to function, Such that the factory may operate in the ' shadow. ' Sadly, dark warehouses remain problematic in contemporary warehouse operations. "Shadow warehouses may not be as impossible as Robinson believes. The idea of dark warehouses is already get studied.
Conclusion
Thus Robotics is among the most rapid growth regions for dark warehouse activities. Deployed over decades in industrial environments including car assembly, they have grown to include a wide range of logistics applications in recent years. D.C.s are dependent on static robotic palletizers & depalletizers for some period. With the upcoming of recent technological advancements have rendered storage robotics mobile. Guided by remote orders from either the Warehouse Management System or the Warehouse Execution System, these robots may move pallets and products around a busy warehouse with human interference.