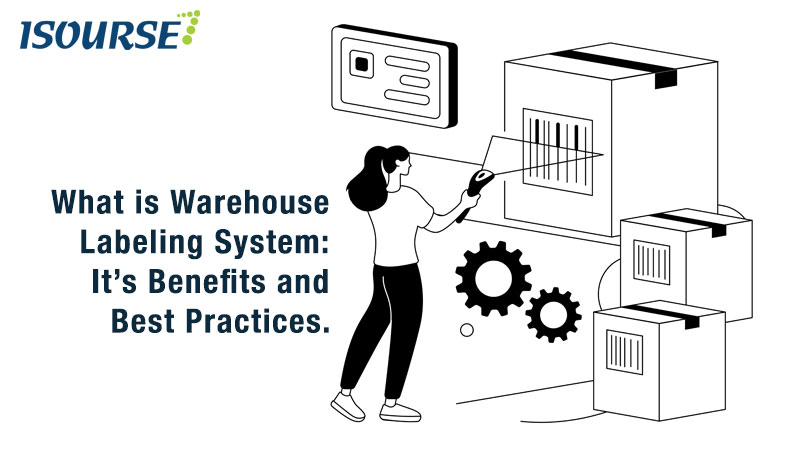 What is Warehouse Labeling System: It's Benefits and Best Practices.
Warehouses are areas where stacks of boxes or loose goods take up space in a disorganized manner. Identifying what goods are out of the mess could be a problem, and this is why good management is so important. Optimising the inventory management process is a must in every warehousing business. Every industrialist can revamp the whole business through diminishing the redundant operations and optimising the operation before automating them.
Warehouse labeling systems effectively solve this issue by ensuring that goods are easily spotted and handled during the delivery process. It guarantees that customers receive that item they requested and not the incorrect thing in the wrong box. The solution to storage rack or shelf marking is unique to each company because they are of different kinds. Here are the choices for marking warehouses that are as follows.
Floor Labels – Floor labels are suitable for large warehouses with several rooms. These get designed to withstand heavy traffic on the floor. They are resistant to hard solvents, fats, hydrocarbon solutions, and other pollutants, and it can be modified to match any scale, form, duration, or material specifications.
Rack Labels – These are the most popular type of warehouse rack labels used for streamline operations by making it possible for workers to distinguish products and parts. They help to determine the right tools for inventory control, storage, and delivery purposes.
Warehouse Magnets – Magnets, the most durable choice among the storage mark choices. These can get spread irrespective of weather, without any damage or cuts, and it can be re-applied without any need for sticky adhesives like tape. Magnetic signs or labels are usually used to mark the shelf or rack position because they can get relocated as required.
Retro-Reflective Labels – This choice is perfect for barcoding shelves. You can check up around 45 feet away, due to the light-reflecting particles throughout the mark.
Importance of labeling system in the warehouse
Without proper inventory management, the warehouse may be a location where the goods become loose, unorganized, and taking up more space. With better arrangement and the use of rack tags, professional managers and employees will bring more relaxed time not just to locate goods but also to handle their shipment and receiving. Here are some of the explanations as to why warehouse labeling schemes are vital to the effectiveness of warehouse operations.
Easy Tracking – Labels made by manufacturers provide staff insufficient information on the nature of the product if it has to get processed within the storage facility. It makes it very difficult to coordinate and monitor goods, which renders managing items a task for professional and amateur employees alike. With the help of custom warehouse labels, workers can name and manage inventory in a manner that is most comfortable for them. Proper marking can help employees quickly track their stock inventory by searching the labels in the database.
Improved Service and Warehouse Performance – The use of factory labels avoids most of the errors. Errors like delivering the wrong commodity to consumers or mishandling products need a system that will significantly reduce the productivity of the warehouse.
Eliminate Errors – Warehousing rack signs virtually eliminate mistakes that often occur from manual product management. It also increases the pace at which workers could find the correct shelves and objects to schedule orders and restock goods. Labels have included precise data, reducing supply chain problems that cause delays, like back-orders or incomplete shipments.
Reduces Location Confusion – Warehouse staff with labels will have an easier time locating products and thus avoid worker-related errors. If products are restocked in the wrong sections or if there are areas where products are unorganized, it can make the entire supply chain process slower and more frustrating.
Improve Durability and Readability – Most warehouse labels, simple to install, by making the labeling process fast. It is also easy to read and easy to change if any harm occurs. There are several different kinds of storage labels, such as long-range, vintage-reflective barcode labels; dual-level, warehouse racks labels; warehouse corridor signs; even floor labels.
How to optimize the warehouse efficiently with a labeling system?
The warehouse is digital or uses paper pick-tickets, the specific address would inform the stores and pickers precisely in which the items are. Any effective warehouse address scheme meets the following principles that we are presenting as follows:
The method has to be linear – Labels must use a sequence of numbers and letters in chronological order to determine the precise location of a rack. It really wouldn't make any sense to use another term. For example, if you were using a color, there will be no logical way of determining the sequence. Is the blue coming before the green? And vice versa,? The reaction would be random, but it would not be clear.
Adjust the use of letters and numbers – The thresholds have labeled with keys. Try to utilize single digits for the inlets and the double digits for a bays. Differences like this will make it much easier to interpret longer lists of words and increasing mistakes in transposition.
A counting system has to be consumer-intuitive – It must make logical sense for warehouse workers who do it every day. It applies to people who place incoming products on sale, staff who take stock, and for those who choose commodities for shipment.
Labels need to be easy enough to find and understand – The address should be simple to see and grasp fast in a storage setting. When you're working with multi-level shelving, place all the marks on the eye level. Many programs use arrows to set the standard.
Stick to a specific spot to put the sticker on a rack – Finding a few on the left and the others on the correct, for instance, will be frustrating.
Best practices for labeling warehouse
While opening a new plant or modifying a facility which has proved to be obsolete, it is essential to concentrate on fundamentals such as configuration, collection of storage devices and, ultimately, marking of the warehouse. Stock marking is a critical component of the facility architecture that is often ignored by warehouses or manufacturing facilities. Those that choose to give up this operation or do not obey good practices also experience significant financial losses in the form of unpaid hours of work and missing products.
The expense of marking any particular building, regardless of its size, is far exceeded by the financial consequences of an inadequately labeled warehouse. Do not view warehouse and product marking as an optional extra, because it often had more effect on your market than you might have known. Getting to know something about Supply Chain Good practices like at Warehouse position marking is indeed a tricky business. The arrangement of position codes and what they simply called will (and typically do) vary significantly across warehouses.
There are, though, few industry standards that you should follow to eliminate a need to change all your shelf later and also to reduce the potential frustration to your pickers.
Some of the critical factors to remember when marking the warehouse have included the barcode system, label fabrics, label positioning, and support technology. Here, we're going to look at each subject in more detail.
Next, it is essential to define the barcode system which functions for all parties concerned–both GS1 and UPC systems commonly used. Identify what product details must be accessible within this scheme (i.e., expiry date, date of produce, weight, serial) for the parties. First, decide what label content is best suited to your service, both for locations and specific products.
It is important in temperature-controlled areas since standard paper labels are often unable to survive extreme conditions. Now determine that best practices are in line with your organizational requirements for mark locations. It is common to follow the necessary marking procedures, such as positioning labeling at eye level or printing with easily recognizable colors for more comfortable display, arrows indicating specific product positions, and identification of bulk areas or places without shelving.
While marking the product itself, make sure that it is consistent across all merchandise products and disclose precise specifications to retailers while goods are labeled when they enter the warehouse. Eventually, define which technologies will be required to automate the everyday printing needs. Most facilities have chosen to incorporate handheld printers to reduce travel distance and time across the building, saving money and time. Making this process more effective frees precious time that could get used for certain critical business operations.
Amount shelves up out of the ground. That way, you add height for your shelves when you expand, you do not have to m certainly-label your shelves. Therefore, when you have a rack with four shelves, with either the top shelf becoming number one as well as the lower shelf growing number four when you want to step up to add places, the new location (let's assume shelf five) will be at the peak of the shelf three.
It is good practice to just use zero across all numbers other than 10 (i.e., 01,02, 03, and so on.) while specifying alphanumeric positions. It will also expect the system to interpret alphanumerically the situations correctly.
Be compliant with that. There is nothing that will mess up your order or your workers quicker than an incorrect marking process.
Conclusion
As you will see, a lot of work goes into naming places, and because of how infinitely customizable it can be, you can get unique or generic as you would like. While this may be a positive thing, with a well-planned program, pursuing this kind of project is naturally overwhelming. And don't worry, though. As discussed above, position labeling differs from warehouse to warehouse, so there is no need to panic if your position labeling looks different from the way others do.