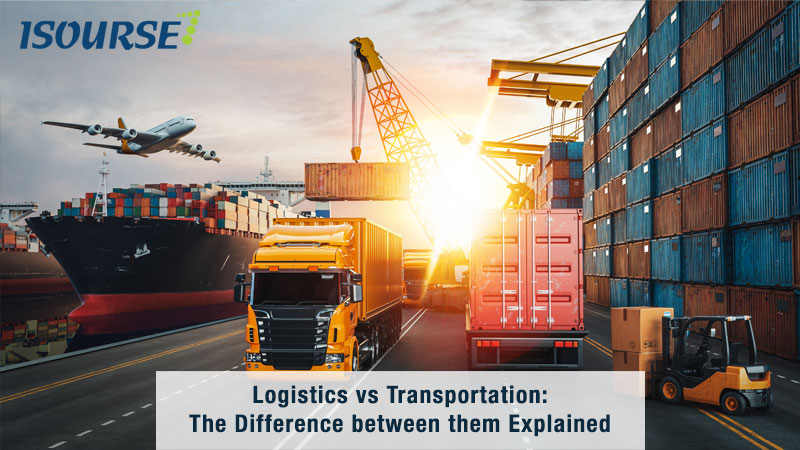 Logistics vs Transportation: The Difference between them Explained
Logistics along with transportation are essential parts of distribution platforms. Transportation is the movement of goods, as compared to logistics which is handling of the products from the producer to the end-user, both inward and outward. These words sometimes are used interchangeably but are different parts of the value chain in the organization. Logistics and transportation are about moving goods and services through one place to the next. Logistics deals with the integration of product storage, shipping, digitizing, handling, and packaging.
What is logistics?
Logistics obtains, produces, and distributes the right quality materials and goods to the end-user. Logistics is defined as the planning done for the management and execution of procedures with the most efficient and effective transportation and storage of products and services. Resources, as well as other information from the source point, are sent to the user via logistics networks to satisfy the needs of the customer.
Logistics have a few features which are different from transport services. The Logistics manager needs to decide on packaging, containerization, paperwork and insurance, processing, import and export, legislation. They also deal with labor and partnership, lawsuits, vendor, and supplier management, and risk mitigation. Proper planning is the first step to the completion of a mission. The plan involves purchasing the goods, processing facilities before delivery, and delivering the products to target consumers. Automaton plays a vital role in improving a carrier's performance. For optimization, automation has a crucial role to play.
An unavoidable byproduct of a transportation company has a meaningful relationship or even the team. The team is in charge of development. Logistics means hiring workers starting from the delivery guy to the warehouse manager, which includes getting an interpersonal abilities logistics manager. Logistics needs a backup plan for emergencies and a trustworthy person that can solve problems and conflicts. Warehouse management is a component of the effective management of distribution. Warehouse operations depend on the type of products that you and the logistics manager handle.
Successful optimization has the logistics network with the incorporation of analysis, feedback & even measurement. When a logistics manager deploys new tactics in the system, an analysis of the performance is needed. Research is critical as it controls the industry's strength or weakness. Apply state-of-the-art technologies and creative approaches to transport for distribution. Proper logistics management is continually changing to increase operational efficiency and ensure customer satisfaction with high productivity.
What is transportation?
Transport is characterized as the movement of products from one place to another. These transport modes might include various ways like through air, rail, street, sea, cable, pipeline, including space. Transport companies classified into three components: infrastructure, vehicle, and operations.
Transport is essential as it makes exchange trade and communication, which eventually creates civilization. Transportation has often allowed people to develop cultures through facilitating the movement among different locations, people, and supplies. Good transport is essential for carrier or even distribution service to survive. Efficient transport must analyze for the best delivery route which gives cost-effective packaging, which ensures low investment with full goods protection.
The transportation services include moving goods and services, individuals, and animals by train, road, air, sea, wire, space, or pipeline, through one place to another. Transport services could be divided into three regions: infrastructure, vehicles but operations. Transportation lets the two parties interact and trade.
Transportation is the key element of logistics because products would not travel without it, and traders will have nothing to offer without these. Put, transportation as the movement of capital from position A to point B. With gasoline they require, the supplies ordered as well as on the most efficient route imaginable, the logistics requirements are what brings him there. Most recently, using blimps and robots and using advanced vehicle covers to ship goods to a customer's gate, the big retailer Amazon got the edge over its rivals.
Difference Between Logistics And Transportation
The logistics services sector characterized the purchase, manufacture, and distribution of the right amounts of materials and items to the final destination. This requires proper planning, executing, and maintaining procedures so that the goods should reach efficiently and effectively to the destination.
On the contrary, transportation is quite significant because it helps two parties to interact and exchange. The critical difference is that logistics works with either the integration of material storage, distribution, handling, and packaging. In contrast, transport deals with either the role of moving goods, including individuals from one place to another.
Whereas transportation and logistics both get concerned with getting belongings from one place to another, logistics have added benefits and features. Logistics executives make very crucial decisions regarding packaging, containerization, paperwork, claims for any kind of harm to freight, research, and even it includes a partnership, vendor and supplier management, and risk mitigation.
Although these concepts used as substations for each other, their key differentiators will be that logistics deals along with the integration for materials storage, shipping, cataloging, handling, and packaging. In contrast, transport deals to move goods, including individuals from one place to the next. Logistics around the same time also supports transport powers logistics, but. By this argument, it's easy to understand that although interdependent, they're different roles.
Logistics applies to organizational planning, whereas transport is the process through which the plan implemented, moving goods, individuals, etc. from A to B. It may also expand to include the notion that transport is a component of the logistical activity.
With all this to handle, executives tempted to rely heavily upon TMS (Transportation Management) software, but this may be a business error regardless of size. Although TMS is certainly helpful, as stated in the list, distinctions need to be made beyond procurement and even transportation management, which involve coordination to execute effectively.
To know how large the markets are expanding, one needs to consider how transport & logistics work hard to make it simpler for customers or vendors. To attempt to make moving merchandise safer for citizens whose task is to carry the products, retailers develop innovative systems on the logistical level each day. A logistics firm that allows runs around the world, for example, needs to ensure the truckers travel the most productive routes every day. It can be not very easy when attempting to weigh in flow, temperature, road closures, and other factors. Designing models is the role of someone like an economist or engineer to have the latest up-to-date information available. It will also enable distribution institutes to submit their drivers with the most efficient routes.
Conclusion
Transportation or logistics are two entirely different & intermingled sectors that play an important role in even the most efficient and effective way to move goods. Although distribution was the mind behind the process, the transport was the driving force in guaranteeing that the products make this from point A to point B and also that the evaporation mode gets back on schedule. What makes each a significant role in the diverse aspects of today's commerce and technology is the main similarity between the two.
Well before the creation of the wheel, travel has existed since the dawn of humanity. Sleds were the first significant form of asset movement around humanities. When the wheel gets developed, transportation increasingly produced devices like carts that pioneered the automobiles of today. As described above, transportation is still overgrowing and furthers the efficiency and price-effectiveness of transporting goods.