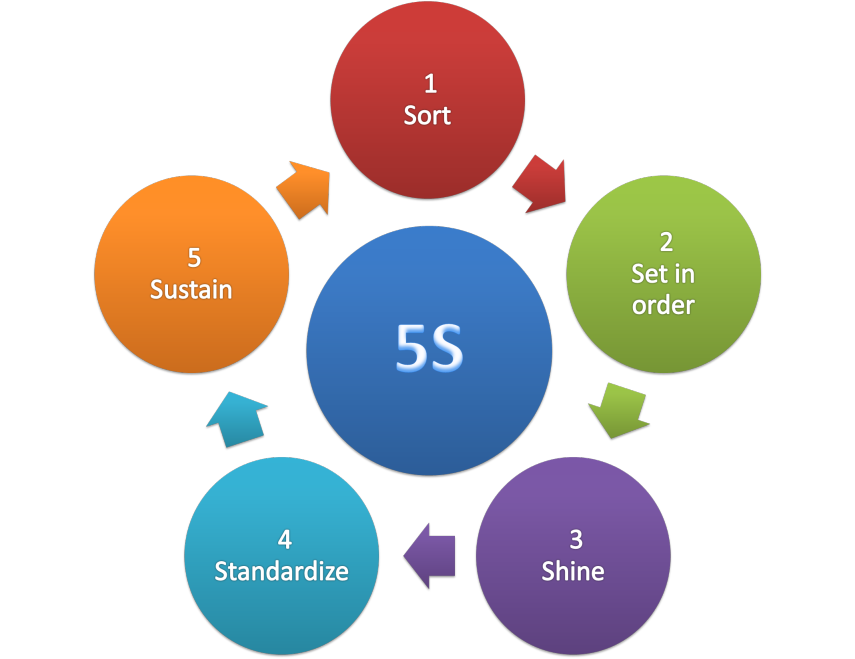 What are 5S in warehouse Management and How to use them.
Warehouse Operations have the scope to transform and revamp a whole supply chain. The major obstacle in transforming the supply chain process into a future-friendly process lies in the inoptimised operations. Isourse aims to optimise the redundant operations is a warehouse through the 5S strategy.
The 5S a Lean strategy that helps to achieve warehouse objectives: to solve the problems. Getting a warehouse that is clean, organized, and much more than looking fantastic. It's all about making warehousing operations most effective, excel in training and communications, and eventually saving money and time. A facility that has introduced 5S can rapidly detect or surface problems or address the causes and fix the brief-term challenges to avoid recurrence.
What is 5s in the warehouse?
Seiri (Japanese word) Sort – It allows the essential items required to complete the tasks that are held through the supplies.
Seiton (Japanese word) Set in Order – It makes sure all items get ordered, and each object has a specified position. Organize all the things remaining in the workspace in a structured manner to promote the execution of job assignments for the worker.
Seiso(Japanese word) Shine – The active attempts to be safe and tidy in work environments ensure purpose-oriented work.
Standardize Seiketsu (Japanese word) – Establish a set of norms for both organization and processes. Mostly, this is when you consider the first three S's or make guidelines as to whether and when certain activities should carry out.
Shitsuke (Japanese word) Sustain – Supporting innovative policies and performing internal audits. It implies that the previous four S's need to extend over time.
5s Explained in Detail
1. 5S System: Sort
All paths are in a clear need for the service. Designate a region with floor labeling tape so transferring objects will not interrupt the flow of traffic.
Are all packaging materials available, or are employees rushing around wasting time? Prioritize the use of the resource depending on usage size.
Another solution is to identify objects with the percentages reflecting their value and level of usage within the workspace—Mark vital task resources with "1," secondary yet essential things "2," respectively. Instead, reorder the office, prioritizing by a numerical value.
Build separate package stations. Having so many forms of production in one broad region causes a slowdown. Create an independent workstation when repeated orders require additional packaging supplies (such as delicate or refrigerated goods). This way, every packaging workstation provides proximity to sufficient supplies.
2. 5S System: Set in Order
A well-organized warehouse defines the walls, racks, and products.
A library is a prime example of such an effective system of recognition. Resources are categorized into genre fields such as fiction and nonfiction and separated into categories such as transportation or pharmacy, and resources are in alphabetical and numerical order. All places include signage and the labeling of all products. Stock with color codes that are delicate, strong, or unusual, and staff may identify the need for special handling.
As store positions change frequently, their racks get labeled with Dry Erase, Magnetic, and replaceable Tapes.
Without consistent designations for aisles, workers will messy and haphazardly position merchandise, so it overhangs that aisle which generates a threat for protection. The floor labeling tape will help to keep the inventory throughout shelving areas.
Implement the barcoding scheme not only for product positioning but also for aisles, putting barcodes onto shelf tags or labeling tape on floors. Barcoding also is useful for recording instruments or any other tools. When you have a crib attendant machine, he or she might store, and "scan" people's equipment like a librarian checks items out. Sets due times and dates if employees do not return the equipment, or if the stocks of tools are small.
3. 5S System: Shine
Does your packaging area always low on supplies, and anything scattered around it? Assign somebody (or several persons, that your project stretches multiple shifts) to be responsible for the region. Creating ownership builds pride, and the environment should be changing instantly.
A deep cleaning program periodically organized and a sluggish duration after Christmas will be a perfect time to eliminate/replace old signs or stickers, check the floor marking scheme, or clear the dust of old stock.
4. 5S System: Standardize
Encourage staff to be efficient and specialized. Please take a moment to evaluate the routine of workers to see how to simplify it.
Connect a suggestion box so staff can propose improvements and discuss the present system anonymously. Read the comments of the meeting, and call for feedback. Those people who
understand the best places are the workers who invest the whole day there, so they also have ideas to make the system better.
Print single-off unassigned activities on a whiteboard or encourage people to delegate themselves to activities as time allows. Actually or in a group, notice the super-performers. It is a great way to attend the sporadic events which require responsibility, while at the same time improving morale or growing 5S participation.
5. 5S System: Sustain
Ask employees to figure out what training they are lacking and what services they are formerly struggling to find. Ask themselves what slows them down every day.
Make a constant auditing process. Keep your mind peeled for places where there is inefficiency. Will staff crowd around a particular area, waiting to get to the tools? Was the dock still noisy to load? Consider these inefficiencies and come up with solutions that solve them.
Conclusion
Thus this will yield results as Lean practices put through your warehouse having Lean part from your warehouse community creates an environment whereby challenges are immediately apparent and that every employee dedicated to fixing them. Read a little of the latest Customer Success Stories and hear more about how Lean activities such as Kaizen Blitz or Lean Action Drills strengthened the result of warehouse activities for the customers.