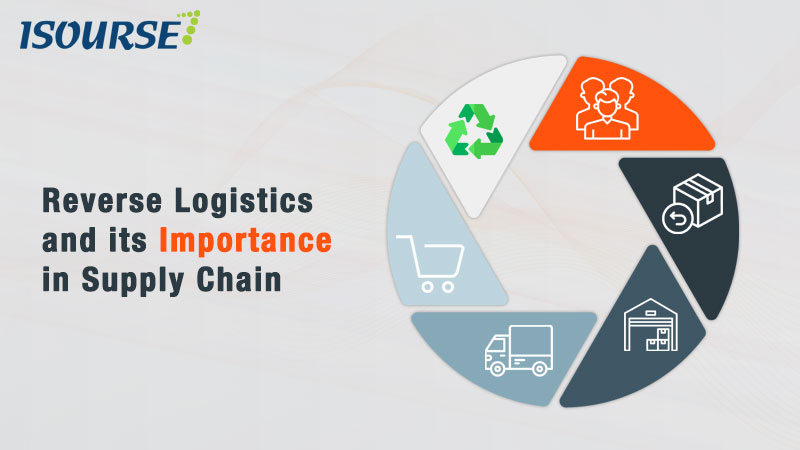 What is Reverse Logistics and its Importance in Supply Chain?
Logistics is a term which everyone is very much aware of. But have you ever heard about Reverse logistics? Today on all things reverse logistics, addressing first at a high standard, "What is reverse logistics?". In addition to responding to what reverse logistics is, this will also cover the background of reverse logistics, the advantages of reverse logistics & why it is the activity, especially in the markets, and then address other reverse logistics utilized by shippers & how to use them.
It is of great importance in supply chain management. Let's study its benefits! Logistics is the backbone for the sales of the organization and at the same time, the retailers take care of the returns to get higher customer satisfaction. It is found in recent days that reverse logistics is also an area of concern in supply chain management. With the help of technology, there is a great reduction in cost and time.
Reverse Logistics helps in moving the products when they are exchanged, or there is any kind of return or refund process being initiated. Generally, reverse logistics takes place when the return of the product takes place.
One reason for giving up online transactions is not having good return channels. Because of this now renowned companies have started taking reverse logistics as one of the major steps in the process of the transaction and to get higher customer satisfaction. Thus e-commerce development is incomplete with reverse logistics and vice versa.
What is Reverse Logistics?
Reverse logistics gets linked to the reuse of goods and services for all operations. It should be "the process of moving product from their standard final destination for value capture or proper disposal purposes. Remanufacturing & refurbishing activities may have included in the definition of inverse logistics." Green concerns are growing, and green supply chain management is advancing. The First use in a journal of the phrase "reverse logistics" was made by James R. Stock in a White Paper entitled "Reverse Logistics," released by the Logistics Management Council in 1992.
In a subsequent publication by Stock (1998), the definition was further developed in another book of a Council for Logistics Management, entitled Production and Introduction of Reverse Logistics Programs & by Rogers Trends & Practices in reverse logistics. The mechanism of reverse logistics encompasses the management and exclusive offer of surplus as well as retrieved equipment & machines from the renting of hardware. Reverse logistics plays an essential role in online purchasing and if the return is done properly the customer feels delighted. The facility of returns, refunds or relocation helps the customer to do the purchasing free of mind and he is relaxed that no loss will happen to him.
How is reverse logistics flow different from traditional flow?
The typical logistics flow is described by the Supply Chain Management Professional glossary as "The early stages of planning, implementing and managing the reliable, cost-effective distribution of raw materials." It helps in the process of inventory, finished products, and related information from the source to the customer. For every organization management of the products to the end consumer is very much important. To make the functionality of online business effective it is equally important to take care of the returns if the customer makes.
"Process of preparing, executing, and managing reliable, cost-effective raw material transport, in-process inventory, finished products and related information from points of consumption to source of origin to recover value or proper dissolution." Reverse logistics is somewhat different from conventional logistics, or forward logistics, operations. The figure below is a typical logistics flow: sales projections used to project sales demand when a certain quantity of product is needed, it gets shipped to either the DC (distribution center) & then transported from DC to retail stores. ASNs (Integrated Shipping Notices) can assist in the valuable details as the goods flow at any single point of the supply chain.
But reverse logistics flow is another matter. As a result of the company's preparation and decision-making, shippers usually do not initiate reverse logistics operation, but in response to customer or downstream channel members behavior. The returned product will be obtained (in several different ways) whenever a return happens, and sent to the distribution center is termed as reverse logistics.
The Advantages of Having Reverse Logistics
To become more competitive, reverse logistics acts as an entity that will bring profits to the company by making loyal customers. It is well known that for any organization planning, reducing cost and optimum utilization of resources with scheduled dispatches and efficient returns can do wonders. For the market, it is important to remain sustainable and keep improving customer satisfaction. Recycling if the goods are rejected or taking care of the environment by doing safe disposals like in old air conditioners or batteries need to set as priority. Reverse logistics has come into existence because of e-commerce.
With the increase of more online shopping, the returns have also become very common and as the customers these days are very selective they don't compromise on any kind of wrong product sizing or not according to their expectation.
Costs eliminated – You will reduce related costs (administration, storage, transportation, technical support, QA, etc.)
Quicker service – By preparing ahead for returns and getting the return order correct. It applies to the original shipment of goods and the return/refund of goods. A rapid refund or replacement of products may help restore a client's trust in a brand.
Retaining clients – Equally critical is coping with errors when making sales. If a consumer has a poor product experience, then you have to make things better. Blunders in fulfillment will generate educational opportunities.
Reduced Expenses And Profits Unplanned – Bounce back the investment loss in your damaged product by repairing and restocking the machine, scrapping it for parts either repurposing it to a second-hand market. You wouldn't have to leave money on to the table, with a successful reverse logistics system in place.
Disadvantages
Miscommunication – It can lead to miscommunication by a customer where there can occur trouble in the chain.
Conclusion
Thus Reverse Logistics is indeed an inherent part among most supply chains across all industries. If you have supplies or products moving upstream at any stage in your end-to-end production chain, then you have a justification for reverse logistics capability. It not only helps the customers but also helps the organization to maintain customer satisfaction. Thus advancement in reverse logistics acts as an edge in several retail businesses that give fast and free returns all over the globe. Thus reverse logistics is now very important in the world of e-commerce as it results in higher customer satisfaction.