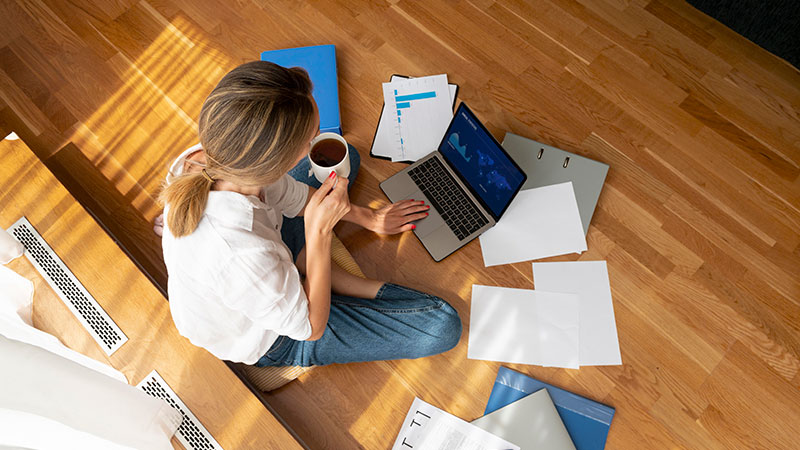 Are you prepared to Assess Work From Home During Turbulent Times
In the light of uncertainties caused by the Covid-19 and which still continues, schools, colleges to official organizations & Corporates are now shut down and forced to manage everything by working from home. Consequently, the pupils and people associated with places that are engines to the Indian economy are facing the task of managing operations remotely.
While many countries like the USA, India, etc. have quarterly adapted to the work from the home condition, for the time being, the only difference is this time it's not just a few employees but the entire office staff. Companies are facing a huge issue in estimating the growth of the company and for most, it feels like being blind without measuring the progress of task force.
Today, it is indeed important to make policies that facilitate the employees to work remotely in times of social crisis like the one world is now going through. However, this standard of precaution isn't enough to guarantee if it will give the same work output as it will in office or not. But, before discussing that, we will check the factors that must be maintained properly to make those ways work out.
4 Important Pillars for Operating Company Remotely
Here are some of the important pillars that you, as an employer, must ensure to efficient work from home procedures:
Data Security:
Unprotected Wi-fi Networks: Most employees who have an active internet connection at their home can easily work from home. However, some may not have this convenience of setting Wi-fi at home.

As a result, they might have to work through a shared network (unsecured Wi-fi connection). This can have a possible risk of getting your company details at stake. Because common internet sharing spots are highly targeted by third-party hackers to do illegal internet piracy and collect confidential data.
Use Personal Network and Device: Well, most of the reputed companies offer laptops to their in-house employees. However, this facility is still not available everywhere. Due to this reason, many people might be forced to use their personal PC or laptop and own data connection to get their projects done, remotely.

Though this may hamper the work in many ways since your personal device might not have all the business tools that you get in the office. For example, strong antivirus software, auto online data backup, personalized firewalls, and more.

Well, these are also owned by people who are fond of their gadgets and personal data safety. So, purchasing these tools for both personal and official (if required) safety won't be a bad idea! Isn't it?
Hackers Spotting Remote Employees: As mentioned earlier in this section, there are higher chances to get attacked by malicious internet campaigns, if you are working remotely. So, make sure to protect your internet connection through many fold security to stop the hacker to spy on your company data traffic.
Responsibility of Task or Employees
Time Management: The best thing about working remotely is that you have no timeline to maintain. You can work flexibly while spending time with your family or doing other regular tasks. However, amidst this free schedule working, you must manage the employer's time in a way that he is available to respond to respective project members whenever the need arises.
Focused: While working remotely, we get several distractions to keep us away from staying focused. We often feel like taking a break and watch a movie for a few hours, spend time with family members, make some tea for refreshment, and the list goes on.

but, that's not the way things should work out, especially in these hard times when there is no option left for corporate people but to work from home. You should have the responsibility towards your company's health and wealth as it has for you. Make sure employers are dedicated to work.
Give Impactful Effort Towards Work: As discussed just now, everyone should work in a way that benefits your company. It doesn't matter whether or not you are taking breaks quite often while working remotely. Simply, make sure that you get the work done on time for the day. Meet the goals!
Ease of Doing Work
Make Perfect Use of Flexible Work Time: While we work in the office, we stay motivated towards our projects 9 to 5. There is not much of taking a break as frequently as we do while working from home.

If you find the employer is not the right person and prefers doing the office work in the morning to save the rest of the day for your other chores, He is flexible! Just ensure not to mix up work and home worlds together. Always keep a line between these two to make both the ways go smoothly.

However, in response to the current situation of Corona disease, it is safer to stay home and do your work peacefully.
No Official Address or Code: Working from home relieves you from the hurry of getting ready, ironing your formals, getting your hair done, preparing breakfast and many more.

Generally, your outlook does not matter unless you have a video meeting to attend. Other than that, you can do anything from anywhere, but make sure you do the work properly with the same endeavor that you put in office.
Transparency & Communication
Communication: Online communication has become one of our most sought and favorite ways to communicate with our dear ones. So, you can use this as an opportunity to collaborate online with your project team. With time, the internet made progress in providing the modern corporate sector with high-end tools that allow better communication and collaboration.
Keep Track of Employee Activities, Goals, and Productivity: While working under remote settings, the employees must know how to manage their work, time, and goal. So, the employees should be responsible for the company's short and long-term policies in turbulent times.
How iSourse Has an Architecture Ready to Tackle the Current Situation?
To maintain the above pillars successfully, iSourse has an architecture readily available to ease the current situation and for companies to manage and efficiently keep unleashing the true potential of their employees!
Dedicated Project management tool dashboard
iSource already has a Security Architecture in place that will help companies to ensure there are direct contact and communication between employees and employers all the time. As a business owner, you want employees to work in a safe virtual environment and that means there should be a seamless transfer of data without posing the risk of any data breach.
Total security of data and important issue. Companies can also make sure there is no Policy violation. Data remains totally safe and secure while the person works under the supervision of our framework.
Our main dashboard is a place that gives you complete clarity of all the important metrics related to work. Also, it will ensure direct contact and communication among the employees and employer round the clock.
Accountability Check for everyone
Employees can work from anywhere as far as they are connected to the internet. Employees will easily be able to access everything that a company allows. But,
How do you make sure that everyone is working as per the tasks given to them?
Are they performing what's expected out of them?
This is a reason why you need a tool to ensure you are aware of the employee's progress of a certain task. We even have a system that will also automatically create reports of work progress.
As a company, there are a number of different departments we have like Marketing, sales, product and so on. What if you want to manage each of these departments based
Customer relation management system ( control sales and all)
Balancing freedom and work
As a company, you want to have a balance for the employee to work with ease from anywhere as long as they have an active internet connection. Employees will be free to access everything that a company allows while working from office but this needs to happen through a medium such that there's a seamless transition of project and communication between team members. We've got a dashboard that will allow this to happen in a very open and transparent way.
Human resources management system
When employees are given some task, you need to give it some quantifiable amount such that work can be measured and this could be for any team from sales to marketing. With our dashboard, you can set different types of metrics so that you can track and measure progress based on the nature of work. All of this can easily be customized in our dashboard.
Network monitoring system and asset allocation management
Though we understand that attendance is going to be an issue but with our framework, you will easily know when someone has logged in and logged out. All of this is so you can be in control despite a team that's entirely running remotely.
Bonus: We've got an App too!
How about an app that does all the above things on a simple mobile. We've got you covered. We already have an app running that will make sure every tracking and measurement of an employee's work is done for both sides.
iSoPing App
Conclusion
In the context of abrupt shift of work-style from office to home, it is important for the company managers and HRs to listen to the issues of the employees, acknowledge their stress, concerns and anxieties, and accordingly support their struggles in the Covid-19 crisis.
Talking about the remote workforce management, hopefully, the above-mentioned technology might put light on your problem. Also, taking care of the above four concerns(pillars) for successful remote working should be every employee's responsibility and commitment towards their job.