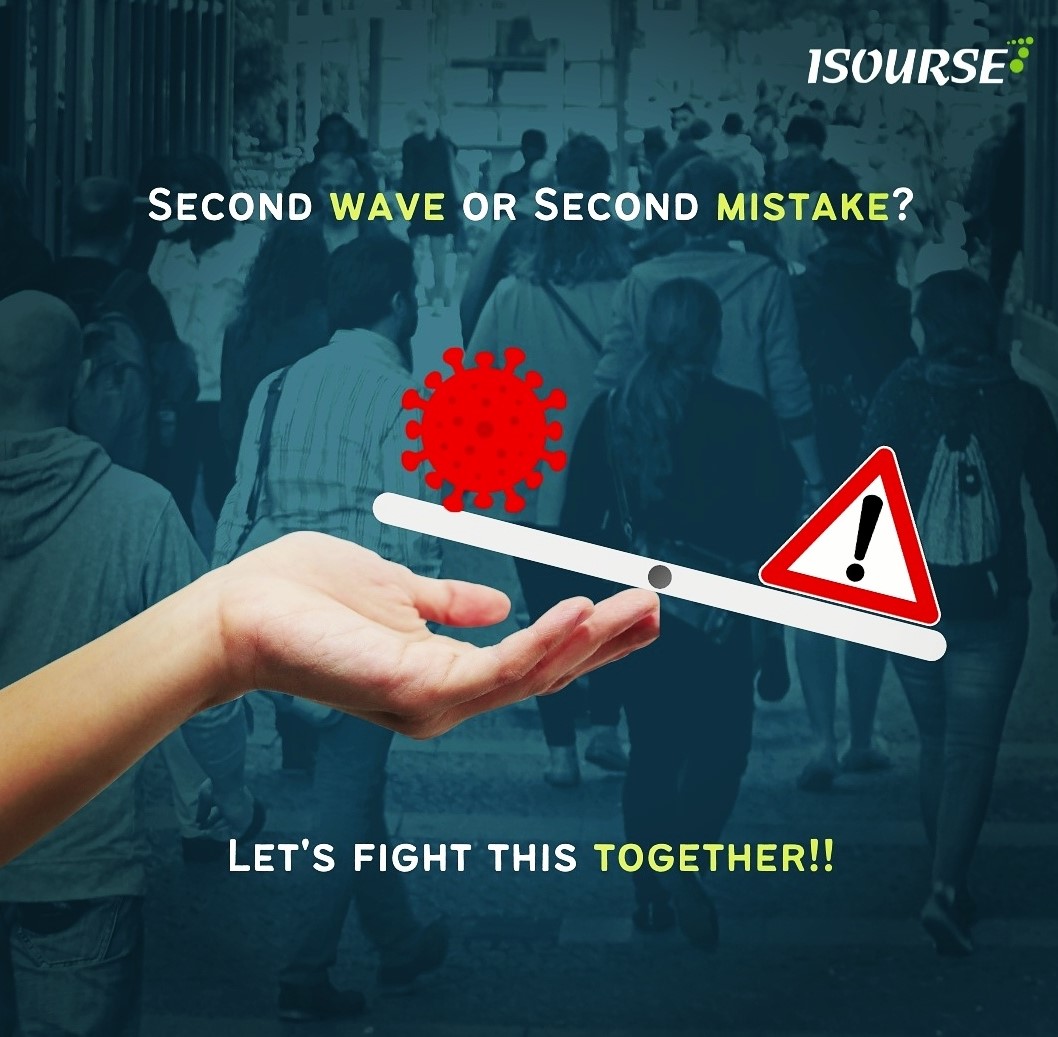 SECOND WAVE OR SECOND MISTAKE?
A lot has changed in the last one year, don't you think so? This outbreak has made us experience a lot of new aspects of life both positive and negative. It was January 27th, 2020 when coronavirus first case whacked in India and after that, we have no idea how long will it last and what will it cost us??
When the 1st wave hit, everyone got so panicked and things started getting miserable. The whole country went for lockdown when there were only 500 cases. We had to shut all the business activities due to which the industry got a huge blow down. There were less death cases whereas the fear was at paramount. As compared to global tally, there was comparatively less amount death cases in India, but we witnessed immense economical loss due to the fear among us.
During Nov-Dec 2020, as the figures gradually came down, people became careless that we have beaten corona virus which further echo in many irresponsible leaders and prominent figures. Even a few Sudo expert declared that this is due to the Indian masala food and Indian hormones. We repeatedly ignored the experts warning about 2nd wave. In Feb 2021, we practically opened everything including schools, Cinema Hall, malls etc. etc.
After that certain period when things started getting less fatal and experts had already predicted a second wave, we had enough time to prepare ourselves to fight this outbreak. Instead of planning and getting ready for the ongoing battle, we took no action even after knowing its consequences.
As an outcome, India fell prey to the 2nd wave of destruction in the month of March 2021. It was no one but us who are responsible for this devastating situation. Rather than taking precautions and measures, we took it for granted. We didn't ban flights nor did screening and quarantine visitors. Politicians were busying is rallying, the emissary was busy lecturing, religious people were accumulated in Kumbh Mela and people were still uniting in huge numbers for marriages and other family functions. As a consequence, the whole nation is facing its consequences without any distinction.
Even after getting a clear-cut glimpse of how things can get destructive we still are on the same page. It's very disastrous that neither we have oxygen, enough hospitals & beds nor we have a standard operating procedure at this time. Although, it's very unfortunate that after 75 years of independence not even a single hospital in our country has its own oxygen plant. In the past year we had enough time to establish more oxygen plants but what did we do? We have no clue.
In the future, Unfortunately, if our country will be in some war crisis and there will be no availability of transportation services our people will automatically die without any resources. Not only this, but we are also facing a lack of space for the cremation of dead bodies. Less percentage in testing, black marketing of medicines and now running short of vaccines.
Have you ever wondered why we are facing this critical disaster?
We all are facing this ruinous situation due to the lack of our social activeness.
We had enough time to ensure fast and efficient vaccine deployment to all the citizens of our country and save ourselves from this huge amount of fatal loss which we are witnessing now in the 2nd wave. Moreover, in the initial period, if we didn't export vaccines in such large quantity to other countries. the situation in India could have been different and we wouldn't have faced this deficiency in vaccination. We forgot that it's a matter of life and death. This second wave is not just the wave, it's our second mistake that we have attained.
In the future, Covid will heal but the scars of the stigma and the mental trauma left behind won't break. The families who have lost their loved ones especially the younger ones their loss is irreparable not only for their families but for the whole nation.
Now the question arises, what are we doing and what should we do as citizens?
To overcome this crisis, everyone is trying their best to save maximum lives and constantly sharing their experiences and knowledge on social media. But, if today any of our family members get covid positive, how many of us know about the next step? As we all know initial 4-5 days are critical and can lead to a higher risk of death, at that time we have no idea what to follow and not to follow and this can lead to new myths and can confuse the public. To conquer this problem, the officials should post SOP ( Standard operating procedures) on a verified official portal to ensure the right information is transferred and everyone can follow the right procedure.
Moreover, to handle any such epidemic or war-like situation in the future, our primary health system should be strong enough and built in such a way that at the time of any difficult situation in the nation we do not face any shortage of medical equipment. Also, in case of any emergency, the hospital beds should be able to get converted into I.C.U and ventilators.
Not only this, we are desperately cutting trees despite knowing that plants and trees are one of the major sources of oxygen in the atmosphere. Organizing plantation drives can be one of the most effective ways to save our lives and contribute to a healthy environment for our future generation. Particularly Peepal, Neem, Imli and Jamun trees can really help as these produce a higher percentage of oxygen. Did you know according to a source nitrofill.com by planting 20 million trees, the earth & its people will be provided with 260 million tons of oxygen. If every individual will plant a tree even if it's indoor we can bring a huge change in our lives with this small step.
We are marching towards the dead end and this is the last wake-up call if we will not be able to wake up at this stage we'll never be in a situation to wake. If we have focused on these things earlier, the situation wouldn't have so worsened.