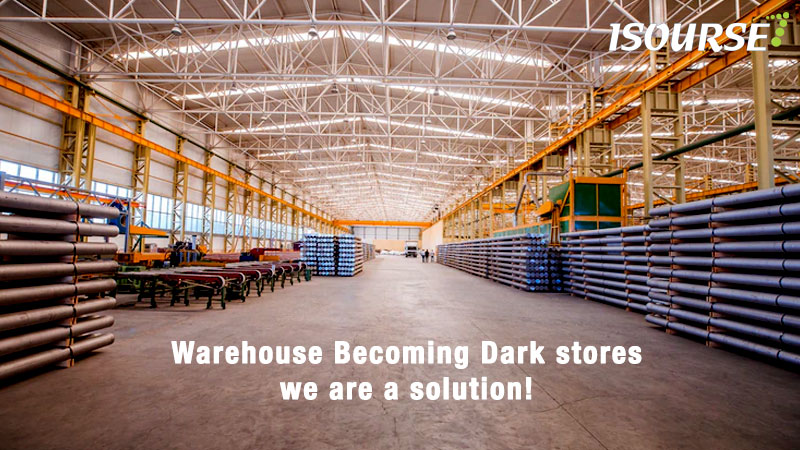 Warehouse Becoming Dark stores - we are a solution!
Indian industry is moving towards the Industrial Revolution 4.0 and with the step towards the future, new concepts like, hyperlocal, quick-commerce, D2C, and many more are emerging on a larger scale. The e-commerce industry has started adopting these concepts and are getting results like 10 minutes delivery model.
Isourse made the 10 minutes delivery model possible in India through our in-house developed solution, The Hyperlocal. Curently the global industry is exploring the concept of Dark stores and the concept itself in a solution to sustain e-commerce in the Covid 19 pandemic. In the era of global lockdown, the e-commerce industry converted all the closed and unused spaces into dark stores.
The Dark store model has revamped the supply chain by shortening it and eliminating the unecessary elements in it. Having huge warehouses can be a lot to maintain whereas dark stores are easier to maintain and increases the local reach on an organisation.
Failure scenarios at a glance
Experts differentiate the whorehouse failures on the basis of two causes i.e. Internal and External threats. Internal threats include THE scenarios where failures are caused by a company's own IT infrastructure, utilities, or employee error. Whereas External threats, are deliberate external attacks or unpredictable events such as accidents or disasters.
Internal hazards include:
Fire in the computer center
Power outage in the computer center
Hardware failure (hard drive crash, overload, overheating)
Software error (database failure, Network issues etc)
External hazards include:
Infiltration (man-in-the-middle attack, phishing, social engineering)
Sabotage (attacks on SCADA systems)
Viruses
Distributed denial of service attack (DDoS)
Hardware theft
Natural disasters (earthquakes, lightning, flooding)
Accidents etc
Accuracy, cost control, efficiency, cleanliness, safety and security are the 6 basic tenets on which the warehouse management depends upon. Companies find it easier to prepare for internal security risks than external threats. The reason for this is that hackers always adapt their attack patterns to current security standards and continually attack corporate networks with new malicious programs or infiltration strategies. Companies can reduce the risk of internal dangers, through an uninterrupted power supply, fire protection measures, highly available servers, and comprehensive security training.
General problems that every warehouse faces
Managing Warehouse Space/Layout
Disorganized warehouse spaces can cause unnecessary labor costs and the incorrect use of storage systems and racking arrangements can result in full warehouse shelves, with no space to receive new inventory. It becomes really difficult to manage space when there is increase in the inventory in any sector and Providing an adequate amount of storage space and the correct planning of a warehouse is vital for smooth running of a business.
Communication
Lack of communication can be a serious issue in any business. In a warehouse, a lack of communication can lead to disjointed operations, causing mistakes and inefficient processes. In real terms, this could mean that stock is misplaced or delayed, ultimately leading to a poor experience for your clients. Lack of communication is a huge challenge within the logistical chain. Effective communication maximizes productivity.
Customer Expectations
Today,customers have learned to expect more than ever before, including shorter shipping times, perfect order accuracy, and amazing customer service. Hence keeping customers expectations becomes the priority of any warehouse manager.
Product Diversification
Product Picking Optimization
Handling Product Damages
Inaccurate Purchase Orders
Slow Picking Processes
Managing Fluctuations in Demand
Consequently, the warehousing industry is becoming the key role player in the logistics service center. If your inventory isn't accurate, that could lead to shortages, delays in fulfillment, and out-of-stocks that are going to diminish the satisfaction of your customers. An effective warehouse is going to account for individual customer preferences by automatically creating the right type of labels.
How ISOURSE provides solution !
As warehouse manager needs to perform several crucial functions such as overseeing and recording deliveries and pickups, loading and unloading materials and supplies, maintaining inventory records and tracking system, determining appropriate places for storage, rotating stock as needed and adjusting inventory levels to reflect receipts and disbursements. If everyone involved in making supply chain decisions is on the same page, a warehouse is going to be able to plan and execute shipments that much more faster. This can be achieved through using the right applications, software, and other tools. Hence ISOURSE provides a perfect solution to any problem related to warehouse management , we provide you with a software that sums up your every problem at a single place.
All the 5 main processes of a warehouse management system are taken care off,
First comes the Inbound process
1. Pre Receipt Notification, Recording and Tracking:
Receipts have name of item, their quantity, Its UOM (Unit of Measurement) and all the information related to that specific item. Serial no, Lot no, manufacturing and expiration dates, statuses of various inventory statuses, rules of default receipt status these elements should be tracked. For getting speedy inbound process we need to reduce entering the information manually. Pre receipt process is regarding automation
2. Goods Arrival
When the goods are arrived , we tally the delivery challan with the ASN or PO we verify weather the quantity is same , if it varies further updation takes place after this a unique serial number is allotted to every good and then they are processed for quality check .
3. Quality check
Quality of the good received in the warehouse is checked and if the quality of the goods fails they are rejected and submitted in the damaged zone
4. Put Away
Put away is finally moving the goods to their respected bins. It includes barcoded information about the SKU (stock keeping unit).
Storage Process
This keeps the record of all the inventories and hence is used for viewing inventory.
Outbound Process:
1. Quality Check:
This is one of the most important process in inbound as well as outbound. Some products have their expiry dates. Hence this is one of the crucial part of outbound process so that customer would be able to get best product in case of its quality.
2. Sales Order:
Sales order is an indication for the customer that he is ready to purchase products.
3. Pick and Pack:
The picking process starts by allotting a picker with a pick list who then goes to the respective bin and pick the particular USN as mentioned in the list, then that good is moved further to the packaging area with invoice. However in packaging area items are prepared for shipment by packing them .
4. Shipping:
The final step includes the transportation of the good which provides a tracking number which is further used for tracking the shipment.
RTO (return to office)
The RTO process comes when the product is returned by the customer , at this stage when the product is received at the warehouse the quality check is taken place and at this stage if the product is damaged it is send to the damaged zone else it is restocked in the inventory bins
RTV (return to vendor)
The return to vendor process comes when at inbound process the quality process takes place and the goods doesn't match the ASN or PO ie. there might be change in quality, quantity or at any other platform . then the same product Is filed for returning it back to the vendor.