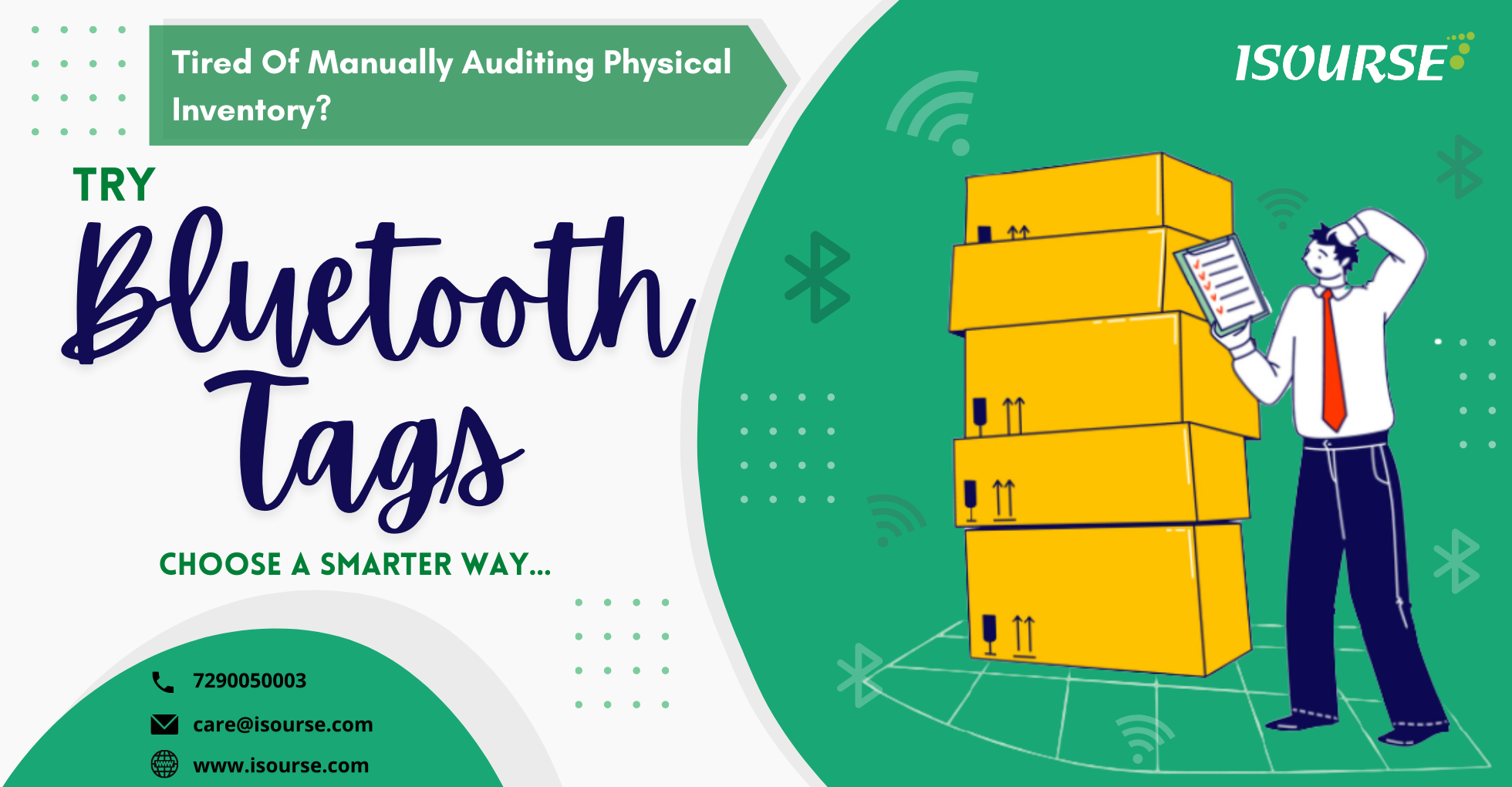 Bluetooth Tags: Say Goodbye To Cycle Counts
In a Warehouse, many operations are carried out and inventory management is one of them. The automation industry is figuring out ways to optimize inventory management and Isourse has come up with Bluetooth Tags as the best option to demolish obsolete processes and human dependency.
Are you still doing cycle counts?, Do you want to save time while managing inventory in your warehouse? and are you looking out for automation solutions? Well, this is the web page where you need to be. Warehouses are evolving every day and organizations want to keep up their pace with time by adapting to future-friendly solutions.
Isourse came up with a solution that will not only future proof your warehouse but will also help you in simplifying the auditing part of the inventory. In this process, the Bluetooth tags will be attached to every inventory, at the time of procurement. Every Bluetooth tag will configure all the data of the inventory and then it will update that information onto the software.
Also Read: 8 Critical Functionalities a WMS Should Possess
This will diminish the need for scanning barcodes and the software will automatically accumulate the position of the inventory in the warehouse. Also, the software can calculate the best path to reach the inventory through the help of Artificial Intelligence.
Cycle counts and physical inventory counts can be very hectic and depending on a human or barcode scanning method can become very time-consuming. Also, these methods are prone to mistakes and lost inventory which will ultimately increase the losses and pilferage incurred by the organization.
Bluetooth tags upgrade the physical inventory into the Internet of Things which creates a deeply knit data structure of the inventories in the warehouse. There are various other ways a Bluetooth Tag can smarten your warehouse operations, let's discuss those briefly.
4 Benefits of Bluetooth Tags
Visibility
Warehouses are huge and it is impossible for an employee to know every single inventory inside the property. Not only this but with barcode and RFID, one needs to scan it to know about the inventory. Bluetooth tags on the other hand do not need to go through any scanning process but still, they will give you each and every information about the desired inventory. With the help of these tags, one can immediately get detailed information about all the inventories present in the warehouse at one point in time. This is what will enhance the visibility of all the inventories in the warehouse.
Space Optimization
Space optimization is one of the biggest goals of any warehouse; the more inventories they can fit in a warehouse the more productive it will become. Warehouses store inventories and storage needs to be organized or else it will become a mess. With Bluetooth tags, the software will be able to assess all the inventories in a single point of time, through which it can create the best placement chart in the warehouse. Artificial Intelligence can do wonders and can create the most optimized inventory placement plan which will enable more space for upcoming inventories.
Also Read: What is Cross Docking ? Types, Advantages and Disadvantages
Inventory Alerts
Every inventory has an expiry date no matter which type of inventory. There is a specific time period allotted to every shipment after which it has to leave the premises. Manual auditing can miss out on those dates which can lead to a mess in inventory management. As Bluetooth tags can access all the information about a single inventory, they can create alerts for all those inventories which need to be dispatched. Also, the software can adhere to unique inventory management rules like FEFO, FIFO, LIFO, etc, and create custom alerts.
Accuracy
Accuracy is the key to success in any field and manual cycle counts can never be accurate. With machine learning and artificial intelligence, the software provides a live tracking feature for all the inventories and creates accurate and reliable data. The organization can customize the software and get various information on their dashboard like Physical Inventory Count, Packed Quantity, Shipped Quantity, Upcoming Dispatch Dates, QC Quantity, Put-Away Quantity, etc.
These were the 4 benefits of our Bluetooth tags and these benefits are not limited but once you adopt this method into your inventory management, you will see many long-term advantages of this tool. The world is a fast-paced place and to gain supply chain visibility in the current market you need to think and implement, not just something extraordinary but something out of the box.
If you want to avail our specialized services, kindly contact us at,
1800-309-5321 (Toll-Free)