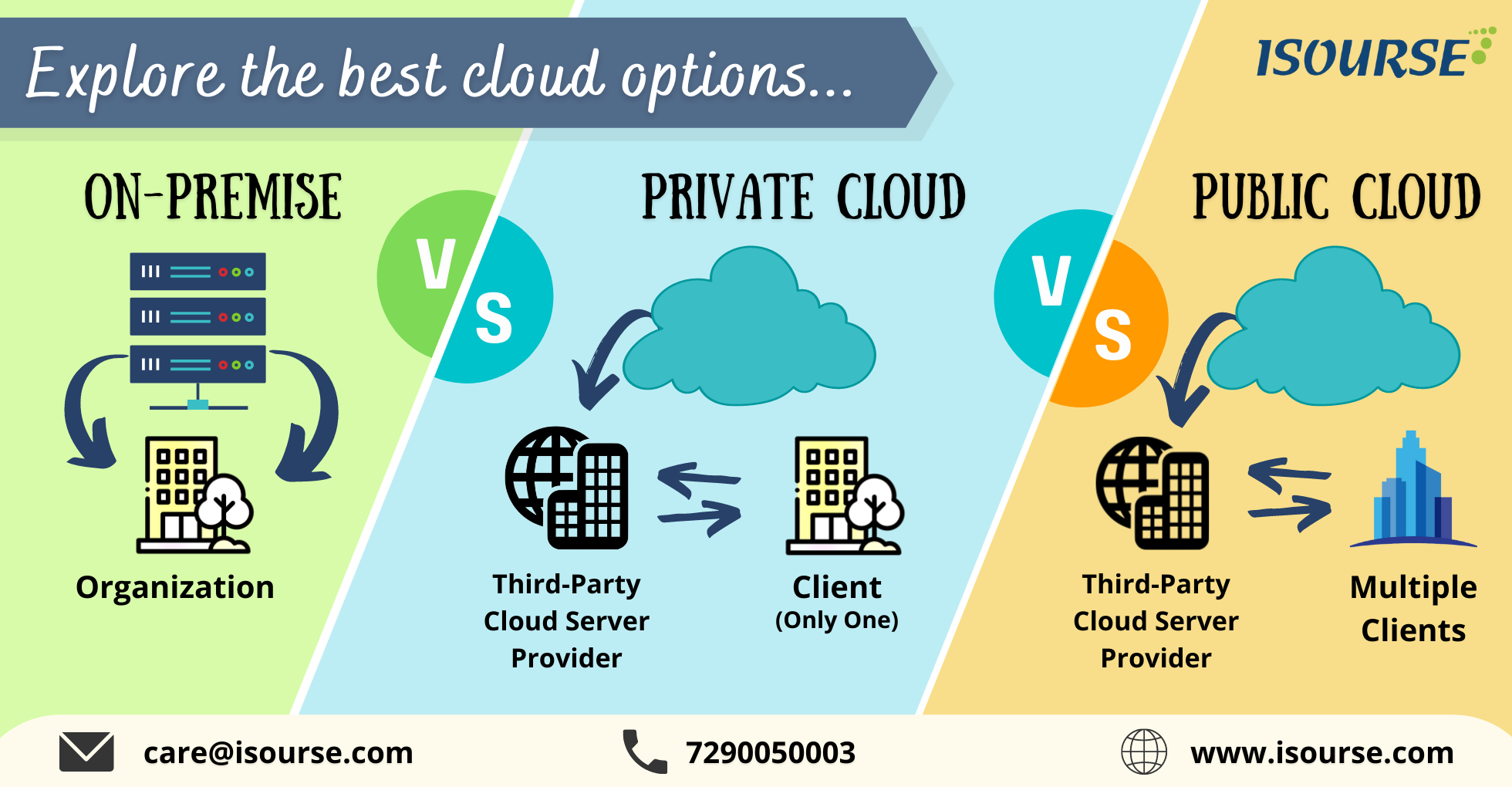 On Premise vs Public Cloud vs Private Cloud: Which One Is Best and Why?
Today, the software industry is tangled in a debate to figure out which is the best between On-Premise vs Public Cloud vs Private Cloud storage options. Cloud storage is the building block of the whole software industry and concepts like Quantum computing is in this world because of cloud. Well this is a never ending discussion and to find the perfect answer you need to go through this article and find out the pros and cons of the three options.
Well in this article we will be talking about cloud storage and the first thing we need to discuss is… What is cloud storage? Cloud Storage is a storage location which allows you to save huge amount of data on the server which can be accessed over a public network or over a private one. It is the most cost effective alternative for storing your company's data securely over the internet.
Many organizations purchase softwares that are hosted on the internet. This allows other companies to access a certain resource over the internet without caring about maintaining any physical infrastructure for the same. By outsourcing your data storage to a third party cloud service providing firm, you will be free from all the data security, maintenance and management work. Now let's discuss the meaning of On-Premise, Public Cloud and Private Cloud.
Also Read: SaaS: The Future Of Software Licensing
l On-Premise
On-Premise is a storage option in which all the resources and data is hosted on a server that is physically present inside the organization. The whole server is being maintained by the company and they have the full control of their data as well.
As the name suggests, something that is available on the premises and some companies have this type of storage option, just to have full control and privacy over the data and software. The main challenge is the maintenance of the server, as you have to delegate more human resource for the smooth functioning and availability of the server.
Moreover, the company will have bear the cost of creating proper infrastructure for the servers, have to keep an extra track of data breaches and regulation. The cost increases drastically because of the addition of maintenance cost, extra employee salary generation, infrastructure cost along with additional disaster recovery expenses. When purchasing an on-premise software you need a lot of monetary funds.
Suddenly making a decision to purchase an on-premise software can be quite challenging and can feel like an impossible thing to adapt. On the other hand there are many benefits of this models as it provides full control and accessibility over the data of the organization which enhances the level of security of this model. Also, as the hosting is handled by the organization itself then there is no dependency on any other party for that matter. This model can work best for the industry giants as they have ample resource and funds, so they can afford such software.
l Public Cloud
Public Cloud is a type of IT model in which a 3rd party vendor hosts and stores resources on it's server. The service provider allows various organizations to access resources on a public network or a private network. It is a computing service hosted off the premises in a different organization.
The best example for public cloud is Microsoft or Google cloud services. Microsoft charges the users for some of its cloud storage space. The users can get like 5 GB storage on Microsoft's cloud but the data security and all other management requirements are fulfilled by Microsoft itself. The users cannot make changes in the server or the services as per their requirements as they now have to depend on 3rd party agreement.
When an organization hires a 3rd party vendor for its cloud services, they do not have to worry about the maintenance and availability of the infrastructure required for the cloud server. Moreover, it is a budget friendly model and can be opted by small and medium sized industries as it has lower equipment setup cost and equipment maintenance cost. The main drawback of this model is that the clients have share the resources with other clients which can make the server vulnerable to data breaches.
Public cloud is a very common type of cloud service which can be seen in India as our country is a hub for startups and small businesses. This model suits these type of industries because of its elastic price model, no maintenance cost, no pressure of long term contract, 24x7 availability, and so forth.
l Private Cloud
Private cloud offers a single tenant environment provided by a 3rd party organization. The 3rd party organization only handles the data of one corporation which means the client will have the direct control of the underlying cloud infrastructure. Private cloud includes 3rd party vendor and hosts the computer resources on a private network just like a public cloud but the main difference is the number of clients on the cloud. In public, there can be 10, 20, 30, 40… and so on but in private the vendor only tends to the needs of one company only.
Private cloud model can be appropriate for all types of industries, from small scale to a large scale industry. This model is the most cost-friendly and secure out of all, as in this model the clients will only have to pay for the resources that they are using. Moreover, if we precisely talk about the type of business in which this model fits the best; then it will be a successful implementation for businesses with unpredictable and dynamic business needs.
Also Read: Management of Warehouse Inventory for Better Efficiency
The main benefit and the reason why private cloud is mostly preferred is its ability of customization. We accept that every business is unique and so is their business model. So to utilize each and every benefit of a private cloud, every organization need customized cloud server which can cater to their unique requirements. Being the sole user of a cloud server enables you to use every resource of the server without sharing it with another client. This also enhances the security of this model and optimize (upscale and downscale) the computer resources as per the client's requirement.
Every software hosting model has its own pros and cons but only you can figure out which platform is best for you as you know your business model well. Well coming back to the ultimate question… The Private Cloud model is the best model as it gives you control along with customization whereas the maintenance, data availability and data security is handled by the service provider. This is a kind of hybrid model consisting of advantages from on-premise cloud like control and customization as well as advantages of public cloud like zero maintenance and no infrastructure needs. So if you want to get good cloud services in a minimal budget you should definitely go for the Private Cloud Model.
We at Isourse provide private cloud services and if you want to avail our customized services, give us a call at:
1800-309-5321 (Toll-Free)