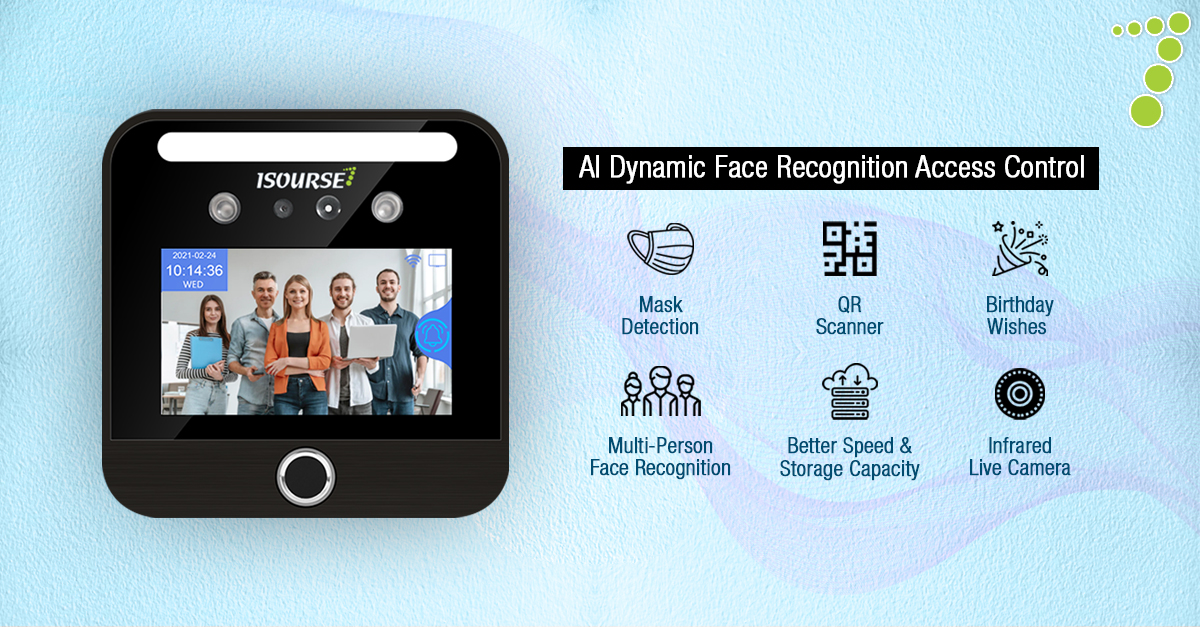 AI Face Recognition: Enter Your Facility In A Smart Way
Isourse is introducing the brand new dynamic AI face recognition access control device. Biometrics attendance is pretty common in every industry and as the world is moving towards tech and automation; the way of entering a facility should also smarten. With the AI-enabled dynamic face recognition access control, you can achieve touchless access control in a facility with all the HRMS features.

We have successfully built a device that can eliminate all the basic deficiencies of an average biometric device with added features. Our unique access control integrates with the HRMS system to create an efficient employee management system.
Enter your facility in three major ways, i.e., Dynamic Face Recognition, Password, and ID/IC card. With accurate and real-time reports, human resource managers can now keep a track of employee data individually.
AI Face Recognition Access Control Features
The AI dynamic face recognition access control self defines its basic features like Artificial Intelligence and Dynamic face recognition. Our device is not only limited to these two features but it has more than 20 additional features.
Mask Detection
The access control device is capable of detecting whether the employee is wearing a face mask or not. After detecting, it provides an auditory warning and asks the employee to wear a face mask to ensure sanitization and safety within the facility.
QR Scanner
For visitors, our HRMS can generate QR for single use, and the device can scan that QR and provides one-time access. This allows hassle-free visitor management and can track very in & out whether it is an employee or not.
Multi-Person Face Recognition
The device is capable of recognizing up to 5 faces at a single point in time. A group of 5 people can stand in front of the bio-metric device and it can recognize and mark the entry/exit of the 5 individuals within a distance of 2-3 meters.
Better Speed And Storage Capacity
The device is capable of storing up to 5000 faces and has a recognition speed of less than 0.02 seconds. With an accuracy of 99.70%, our device generates extremely reliable reports and marks accurate attendance.
Birthday Wishes
As the device syncs perfectly with the HRMS, it has access to the D.O.B. of every employee. After recognizing an employee whose birth date matches the present date; the device starts singing happy birthday to the employee. This enhances the employees' experience and makes them feel special.
Infrared Live Camera
Our access control system is equipped with the finest infrared live camera which is capable of recognizing every face irrespective of the lighting. With WDR (Wide Dynamic Range) support, the camera performs outstandingly in strong, dark, or backlight environments.
Uniquely enough, the device plays an extremely important role in organizing an enterprise, and without this, the HRMS can lack in many areas. This solves many problems at a single point in time like attendance, covid precautions, visitor management, daily in and out reports, and many more.
When combined with an excellent HRMS, our AI Face recognition access control creates the perfect solution for employee management. Perfectly crafted with artificial intelligence and machine learning algorithms, this device can revamp your Human Resource game within no time.