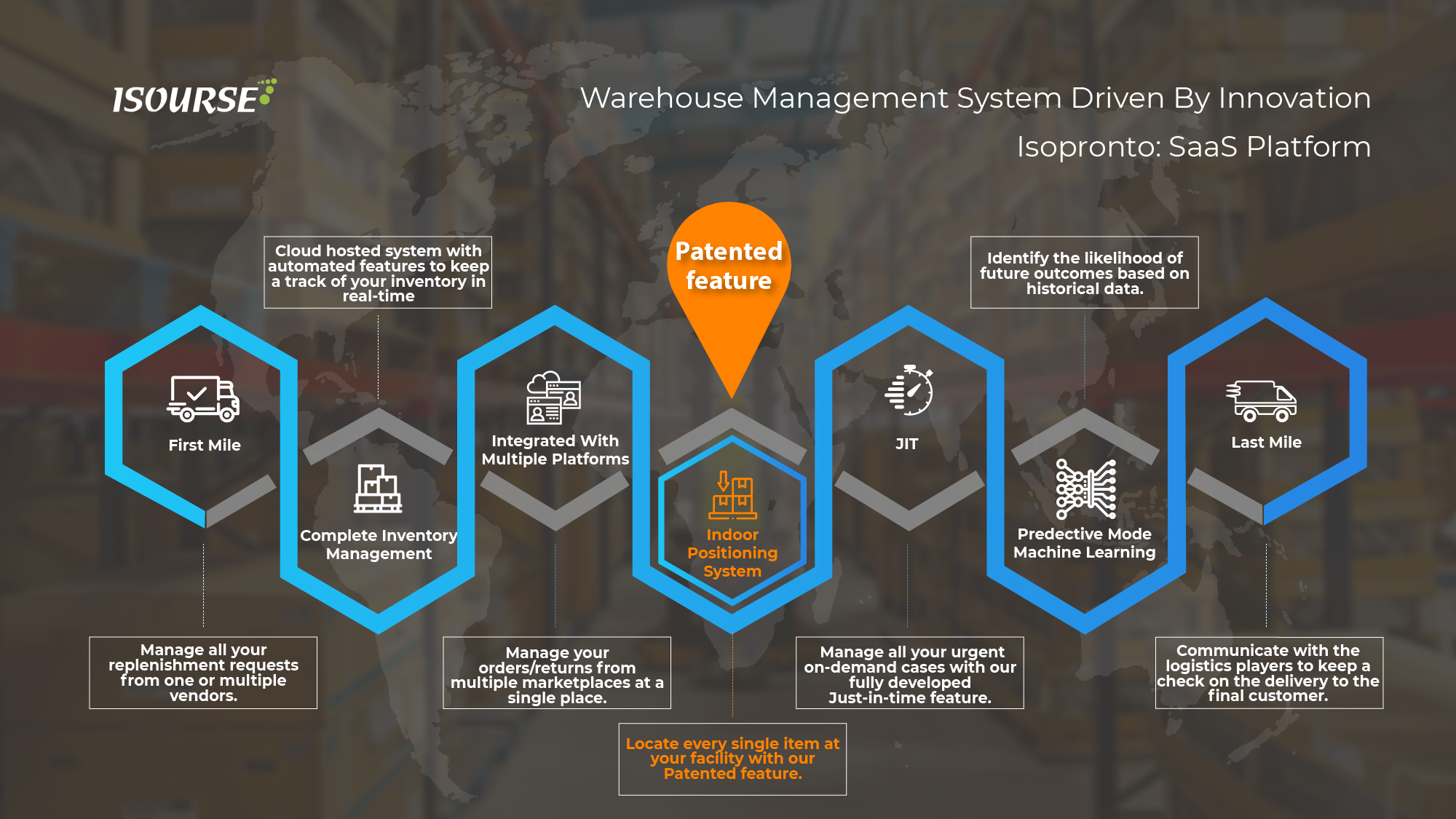 What is a warehouse management system?
A warehouse management system or WMS is the process of sorting and organizing processes and systems inside a warehouse to ensure a steady flow of goods In and Out. A warehouse is a place that acts as a storage space for items that come from a certain seller and will stay at the warehouse unless a buyer demands for it.
Since there can be multiple sellers and multiple buyers at the same time. How do you ensure a proper system to make the process happen at a steady pace? That's where a warehouse management system comes in place.
A warehouse needs to have a system in place to ensure there is a track of everything that comes in and also there is no confusion among the entities working inside the warehouse. Such a process can either happen manually but a step further is where WMS software comes in which allows you better control, more visibility, and transparency in the functioning of a warehouse.
A brief of activities covered inside WMS are:
Having a proper space to occupy the quantity and quality of goods
Managing the stock efficiently to avoid any delay in the facility
Arranging the warehouse and its inventory
Ensuring proper human resources and avoiding any redundancy
Keeping a track of every activity inside a warehouse and improving the efficiency of the system
When it comes to having a WMS, it is adopted by most E-Com companies these days as they have to deal with a ton of warehouses that cater to millions of customers across a certain geographic area. WMS are not just restricted to E-Coms but there are multiple brands that have products from multiple categories and all of them need to maintain an efficient warehouse for the proper functioning of the business.
Some Stats on the current industry of Warehouses
And 96% of the same shoppers said a positive delivery experience would encourage them to shop with a retailer again.
The UPS Pulse of the Online Shopper 2017 reports that 44% of consumers say the speed of delivery is a reason they choose to shop at marketplaces over other online stores.
And Volume Five of that same report claims that 63% say delivery speed is important when searching for and selecting products, with 77% willing to pay for expedited shipping.
Temando's 2017 State of Shipping in Commerce report claims that 54% of UK shoppers would buy from a competitor when the delivery service they seek isn't provided – 10% more than US buyers.
Things expected out of a WMS
A warehouse needs to improve the productivity of the entire system that consists of all the products and the human resource that ensure the proper functioning of the systems and processes.
An efficient WMS should also offer real-time inventory visibility and help in understanding the available risks and potential ways to further improve the inventory or be prepared for an upcoming rush session.
Warehouses are huge and they cater to a lot of multiple products from different categories so they need to be able to handle huge data sets. A WMS like ISO-Pronto can make the entire process completely paperless and fully automate the process.
Any good WMS will always try and reduce time, resources and energy required at any warehouse.
An efficient WMS software lets you generate various barcodes, scan them and even print labels as well as keep track of them until their lifecycle in a warehouse. On a single click, you should know on what time the product entered the warehouse and at what time it made the exit.
Features of a WMS System
The warehouse can come in multiple shapes and sizes. It is made keeping in mind the place where a retailer can have complete control over what's coming inside and what's going out. A small mistake can convert an efficient warehouse into a liability. Let's look at certain features of an efficient WMS:
Seamless Integration with ERP platforms


ERP refers to Enterprise Resource Planning and it means allowing an organization to make use of systems and processes that can heavily automate the many functional blocks of a business related to human resources and technology. When a certain WMS is in tune with your business ERP then it can improve the efficiency of your process.

The reason this happens is that now there is a sync between your business and the real management system that happens on ground zero. In case your sales team isn't performing up to the mark then without an ERP, you're not going to have clarity of your workforce and desired output. isourse has gone a step further and provides an end-to-end solution for companies so even if you don't have an ERP, there will be a seamless integration in the entire process.

Mobile Deployment - 24x7


As an authority, you want complete control over the activities happening in your business. And with the rise in the flexibility of the workforce across the globe along with improvements in technology. Now you can access even a tiny bit of information with your mobile phones using apps. Any ideal warehouse management system like isopronto has a mobile-friendly interface where the administration or any senior authority will be able to get full clarity of everything from the products inside a warehouse to the work hours of your human resource.

With a single update and in many cases real-time updates, you will have a web-enabled and mobile-friendly WMS. What this allows is transparency across different sectors inside a company.

Cost Reduction through Resource Optimization


Many companies and business owners often complain about a lack of clarity when it comes to measuring the output of human resources and the efficiency of their current process. Ideally, you have full right to know about the lacks and issues that may be stopping your management from further improving the state of your business.

With a WMS like ISOPronto, all of this becomes a breeze. With just the first installment, you will know what part and process in your warehouse are consuming more time and resources and you will immediately be able to rectify it with a more efficient process. ISOpronto is going to give you a complete picture of your warehouse that includes the number of orders received, stuck, in process, return order and much more. The reports generated have everything about each product or a lot.

The WMS gets rid of any in-efficient staff that may be causing a delay and some advanced WMS systems like ISOpronto can even predict the load and thus giving you the time to deploy your resources for maximum output.

Inbound and Outbound Flow of Inventory


The basic yet the most important part of any warehouse is how a product comes in and goes out. However simple this may sound, there are huge challenges with the inbound and outbound flow of inventory. In an efficient WMS, any product or a lot of goods is received with a receipt that essentially has a barcode.

This barcode is the heart of that entity until its lifecycle inside the warehouse. Scanning it will tell you every tiny detail like when was the product received, what time was it stuck at, what time did it go for packing and what was it dispatched. In the WMS made by isourse, there is a report generated at every timestamp allowing a total up to date knowhow of a particular entity.

Few more ISOPronto's benefits:


Reports at various processes like Inbound, outbound, Daily report and return the report, each with a timestamp
Print labels at inbound and generate USN(Similar to ASIN)
Fill in details like a serial number with just a single scan.

With time, the inbound and outbound process has been automated and to a level that there is less human involvement these days. Since the goods or lot of goods have a receipt attached to them, all a WMS needs to do is scan it electronically which is done with the integration of scanners and standard WMS software like ISOPronto.

Paperless Process of entire lifecycle


With the progress of WMS and other processes inside a warehouse. WMS enables you to have a paperless process which means everything important is tracked and kept as a record electronically on the cloud. This opens a scope of benefits like anyone in authority can have visibility of what's going on in the warehouse. ISOpronto as an instance doesn't require you to have any paper for any process inside the warehouse.

Once an inbound good is at the warehouse. All you need is a scanner or even a phone with a camera. A simple click and there will be a record created for that good, so now you will know at exactly what timestamp the product came and stayed and went out.
How does a physical warehouse works?
In a physical warehouse. Things work as per a set process where there is a lot of dependency on human and paper records. It all starts with the seller sending a huge lot of products or a lot of items.
Step 1: The Warehouse manager takes orders from the seller using PO(purchase order) or Advance Stock Notice(ASN). This is something that may happen beforehand or after the vehicle consisting of goods has arrived. Ex: You raise a PO of 20 Cartoons
Step 2: At second step which happens at the entrance of a warehouse, GRN or Good Receiving Notice takes place which simply means the warehouse manager will try to validate the number of items requested in PO and the number received at the entrance gate. Any not matched is reported back also called Short Notice or SN.
Step 3: Now once the items are acknowledged, QC or Quality Check takes place by certified professional. This is where the manager or QC professional will check out the good items and the bad items.
Step 4: In the 4th step, the items are now ready to be stacked in their racks. This step is called Put-Away where everything including the good items and the bad items are put in their racks and a receipt is sent to the seller that all items are successfully in.
Step 5: Suppose a buyer orders an item for which the warehouse is assigned to carry out the job. Here, The first process is to check if the item is available inside the warehouse or not. If it is, then a Pick-List is initiated that has all the details of items ordered by the buyer.
Step 6: Now the items are packaged and are ready to be shipped. From here on, the process is carried over by a 3rd party.
The process is the same for return where you simply go opposite from Step 6 towards Step 2.
How does a WMS software work?
Now, let's see how an efficient WMS software works. Here, you will find the system is much smoother and you have a lot of visibility and control over each process.
Step 1: Similar to the physical process, an ASN or PO is created. This is where you prepare yourself to the items that are going to be inbound.
Step 2: Once the goods come at the entrance of the warehouse. A GRN or goods receiving notice is created and a unique Bar code is assigned to the lot or a particular good. This is where the warehouse management software comes in picture. Here, every item gets a unique barcode and a separate identity is assigned in the digital record of the WMS software.
Step 3: At the 3rd step, a quality check or QC happens where again the system automatically checks for any flaws or deformity and the scanner will create a record in the software. This way, at every single checkpoint the barcode plays a very important role. The inbound QC ends here.
Step 4: Now a Put-Away is generated. Since a warehouse may have multiple levels but the GRN is something that happens only on the ground floor. Some advanced WMS software such as Isopronto has a unique way of assigning the Bar code which has every detail of where the item is to be placed and at which level of the warehouse and even under which manager. The software is made such that it all happens automatically unlike the physical process where it would be done manually.
Depending on the complexity of the system, this process can be made as unique as possible.
Step 5: Now after the put-away has been generated, as the Bar code has all the details, As soon as the Manager gets the floor and the stack number. He will first scan the barcode of that particular stack and then scan the barcode of a particular item to be placed. This way a timestamp is created and fed in the bar code allowing the entire process to be efficient.
The scanning and bar code is something which allows the administrator to know where and for how much time did an article stay at a phase.
Step 6: When an order comes, at ISO-pronto, there is a quality check once again something unique to only this software. Then the packaging happens and final timestamp is created before handing over the logistics to a 3rd party.
An advanced WMS software like ISO-Pronto solves two things here:
Cost factor: As we said earlier, a single mistake in a warehouse can convert it into a liability from an asset. Time is money here. If you can control the process and get to know which phases take the maximum time, you can easily find a fix and do so instantly without needing any proof since there is every record of an item's lifecycle from Inbound to outbound.
Human factor: Humans are not machines and thus there will always be an error margin but with an advanced WMS software like isopronto, you will have complete visibility of which Human resource is redundant and which human resource is performing up to the mark. So you can fix if there is ever an accountability issue. This is a great way since you will easily be able to do human resource forecasting and even manpower budgeting.
What to look for in a WMS?
A good WMS software plays a very important role in ensuring the proper functioning of your warehouse. There are a few things which you should see when picking WMS software. Apart from having a core focus on automation, you should look at factors like:
Helps you speed up the entire logistics operations inside the warehouse
Try and reduce human costs and give better accountability on human resource requirement
Helps in ensuring efficiency via tracking and proper process from inbound to outbound
Here are the major factors when deciding which WMS software to go for:
End-to-End Solution: A WMS software should be able to handle everything from inbound to outbound and that also includes the organization inside the warehouse-like the machines, humans, maintenance and visibility of everything in a user interface easy enough to understand.
Accountability and tracking: A good WMS software will always focus on ensuring there is no redundant task inside a warehouse and if so, the best way to get rid of it. A WMS software like ISOpronto also keeps a track of every record inside the warehouse which plays an important role in understanding which phase inside the process can be improved.
Easy to use systems: The whole WMS software should be very easy to use. The entire user interface and user experience should be focused on transparency and visibility of how the whole system functions.An app, a web interface, everything should be there such that someone miles away can have visibility over the functioning of the warehouse.
Add-on integration: Every warehouse is going to different as per the products, goods and the entire ecosystem. Any WMS software should be flexible enough to adapt to certain changes without compromising on the core reasons like accountability and transparency. It should be able to have proper integrations with 3rd party and anything else outside the inbound and outbound flow of process.
Barcode Operations: Barcode play an important role in any WMS software. It is what helps store the data and know the timestamp of a particular instance of any item inside the warehouse. It is essential for any warehouse management software to have barcode-based operations in place. It helps in accuracy, picking, packing and optimizing the entire warehouse operations.
Warehouse Organization: A warehouse organization refers to the whole manpower and resources associated with a particular warehouse as it depends heavily on things like the best walking route, best working hours. In General, a better warehouse will only help the WMS software identify ways to improve the process further. Isourse's in-house WMS software ISOpronto goes a step further by integrating AI-based analysis of the whole functioning of a warehouse.
FAQs
1. How many team members does it take to run warehouse management software?
It depends on the levels of the warehouse and the magnitude of the warehouse. Generally if its a simple ground-floor warehouse then a maximum of 5 people may be required which can be optimized as per the load.
2. What is more economical? A WMS Software or a manual WMS
Generally a warehouse is huge and caters to multiple buyers and sellers, all of which may even happen simultaneously. If its a large space then it's a no brainer to get a WMS software. Else you can consult a WMS expert and get a professional make a custom plan for you. CTA
3.What is the skill set required to operate the WMS software?
Anyone who will be operating the WMS need not know any complex coding or operations. Anyone who can operate a smartphone is skilled enough to have control over the working of the WMS software.
Conclusion
Now, you have complete clarity of the tiny details of the working and structure of warehouse management software. Getting the best WMS software can play an important role in your retail success or failure. You should do your due diligence and only then go ahead with your step of going with a WMS software. Better ask for a free demo and also see if your WMS software company has a past track record of working in a similar niche as yours. Especially at Isourse, we cater to some of the biggest brands across the globe across a variety of industries.