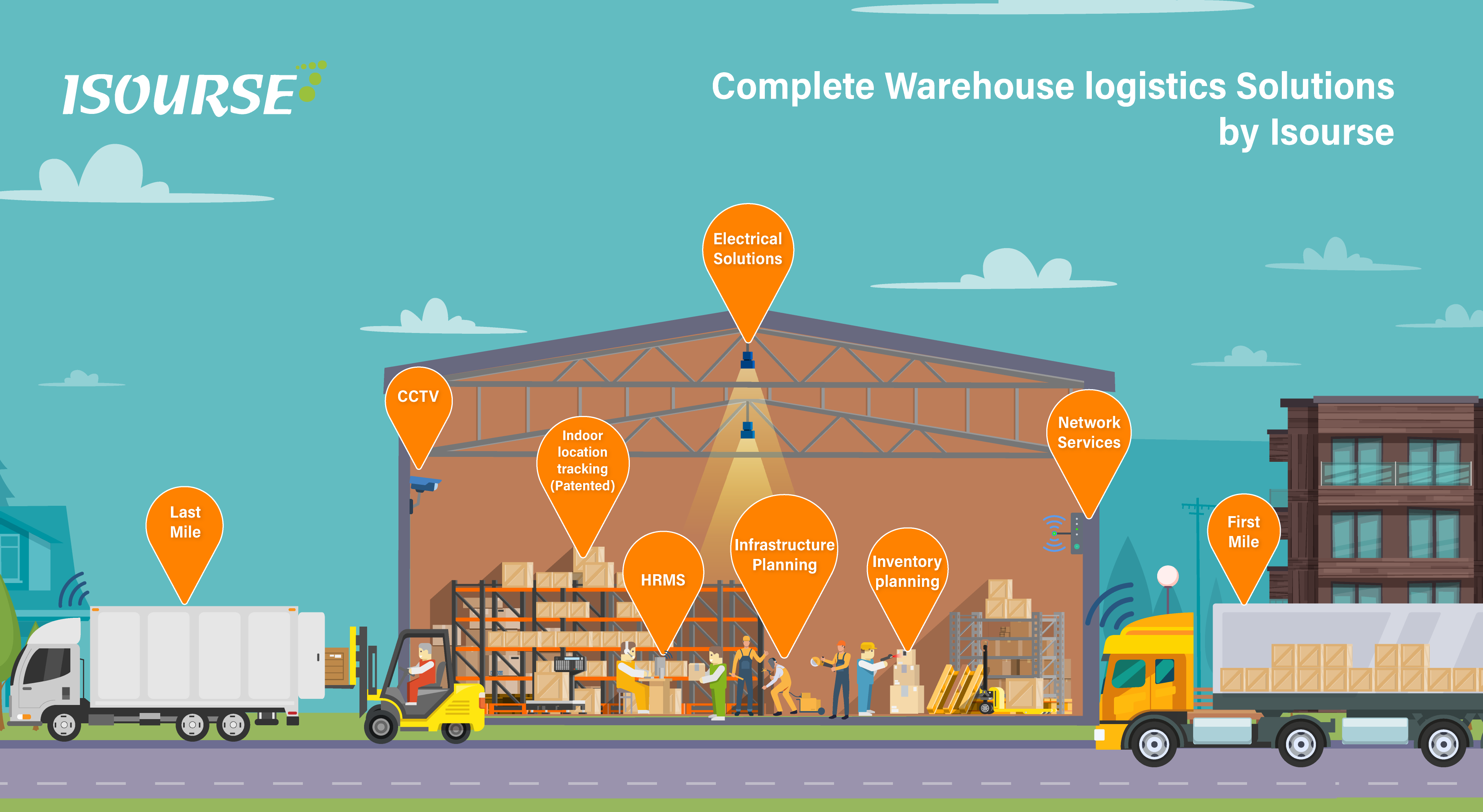 25 Best Inventory Management Apps For Android and iOS
Supervision of non-capitalized assets and stock items is termed as Inventory Management. The prime function of Inventory management is to keep a detailed record of each and every new product as it enters the warehouse. This includes the management of raw materials or finished products. Inventory is also considered as a liability. Thus making Inventory management is an important tool for businesses of any size.
Companies these days maintain inventory management systems capable of tracking real-time inventory levels, measuring efficiency and maximizing output. When Business transactions take place on a global scale covering various locations, entering manually, tracking and counting inventory has become impossible these days, yes but one can rely on inventory management software, tracking and control which has become possible to do easily and conveniently.
Any product-based business owner needs to feel in control of multiple phases and should be able to find records of everything inside a warehouse. Re-ordering the stocks, GRN, Bad stock, Unequal count and much more, having a simple Best inventory management app is important as it can be accessed from anywhere. No matter if you own a Small business, medium-sized or large scale business, a warehouse management app is a must these days.
Since there are many inventory management apps available in the market to fit any business needs, "Which app is perfect for our business" is the question a business owner would have in his mind.
Considering the below factors one can decide which inventory app is the Best inventory management app for their company's requirements.
How many users will need access? One has to take a count of all the users who will be accessing the app for inventory purposes. Check for various permission levels for all the users.
Count of Inventory: With the correct volume of the inventory you have or will require in the future, with the correct inventory management app one can grow their business.
Check if any other program will it need for integrations.
Will one need any physical devices like barcode or scanners or the app will act the same through a phone or tablet camera.
Offline access: When the connections are not available, which features will be needed if offline data entry has to be synced.
Budget: As each company will require a different level of features in the inventory management app, it's necessary to consider all the necessary features and then finalize the budget.
Equipment: With related to mobile devices, everything falls in the category of iOS or Android, also some are also web-based apps that work on any device.
Some of the best Inventory Management apps are mentioned below :
There are many inventory management apps for Android which have emerged in the market. These apps work on all smartphones, available in Apple's App Store and Google's Play Store and many more. Many include integrations with a variety of Accounting, point of purchase and other business software available within the company.
Isopronto: Isopronto is an electronic warehouse management system that gives you a complete visibility of how things are working in a warehouse. As a warehouse inventory, you need to feel in control from the inbound to the outbound of an article. This proprietary application has been developed using JIT technology and based on the HHT based operation. Some of the features include real time inventory, integration with first and last mile logistics players.
Stockpile by Canvus: This is a free web-based app for your inventory management. Stockpile is an inventory tracking app that covers all the basic needs for your inventory tasks. You can open a free account and add as many users needed, no. of stocks and locations as per the business needs. Stockpile by Canvus helps to import and add inventory, track stock counts, take returns, track inventory, turnover and much more. This is the Best inventory app for small businesses.
Veeqo:


Veeqo offers a free demo.
Platforms: iOS, and Android.
Pricing starts at $160 to $260 for desktop.


A cloud-based software syncs all the inventory to prevent overselling of products. Veeqo gets integrated with all the e-commerce platforms, accounting platforms like Amazon, eBay and many more. This functions with the mobile app, which allows managing your business remotely.


Sortly: This is a simple inventory app to track your inventory across multiple locations.


Platforms used: Desktop, iOS, and Android.
Price: Free trial for 14 days available for a single user.
The plan starts at $39 a month for 3 users, Ultra plan - $99 a month for 5 users.

Sortly is a fully customizable app. This creates and connects with barcodes and QR codes which has an in-built scanner. It allows you to track user activity. One of the best inventory management app used for every industry.

Inventory Now: Formerly known as Inventory Tracker. This is the Best inventory app for Small business to medium-sized businesses.


Platform: iOS
Price: Basic Subscription - $6.99

With Inventory Now all your inventory can be seen on one screen. Easy to Sort, filter, and search. Allows the barcode scanning function which gives access to easily add new products. Data can be backed-up easily and can be imported and exported into a spreadsheet.

Stock Control: This is an inventory management app that lists all the items and sorts into categories with storage locations.


Platform: iOS available for iPhone, iPad, and Mac.
Price: Offers free demo. Full version is available at $26.99

This allows users to easily manage their inventory level and value. This is useful to manage different businesses.

Goods Order Inventory: An app with mobile, desktop and web availability. Manages multiple locations, users and mobile access.


Goods order Inventory offers multiple platforms, sorting and filtering with multiple locations. It allows barcode scanning with mobile devices. It allows easy navigation.

SOS Inventory: This is an add-on for QuickBooks Online. SOS helps with inventory, manufacturing and order management may say the best management app of inventory.


Price: FREE trial for 30 days available.
$39.95 to $119.95 per month.
Additional users beyond the plan limit are $15 per month for desktop.


The app is designed to set up and supports all major browsers. Integrates with QuickBook Online to eliminate duplicate entry.

On Shelf: This is the Best Inventory app for Small Business. This helps to sync between iPads and easily access items using the built-in barcode reader.


Price: $4.99. Additional fees apply.


On Shelf analyses and sales reports. Using On Self, less time is invested in managing the inventory and more time in managing the business.

JumpStock: This is a cloud-based tracking app. JumpStock helps to deliver real-time information on any smart device.


Price: It's FREE, but requires a license from Jump Technologies.


JumpStock allows the simpler user, begins automating the inventory management process using barcode scanning. It includes a mobile-based PAR system.

Business Inventory: This is a specific app to track product levels, orders, sales, and delivery.


Platforms: Designed for iPhone and iPad.
Price: $0.99 monthly.

Featured with Barcode reader, gives quality database, gives access to unlimited inventory entries.

myStock Inventory Manager: This app is designed specifically for mobile and tablet users. This is one of the best inventory apps for small businesses.


Price: Offers a FREE trial version. $4.99 for iOS & Android.


myStock Inventory Manager helps its users to record and manage stock movements easily. Helps to exchange data from Mobile devices to data servers.

Odoo: This app allows a double-entry invoicing system to track the inventory's movement.


Odoo gives various business management apps including CRM, POS and many more which are easy to customize.

CashierLive: This is not just for retailers. As an inventory management app, it scans barcodes and allows its users to create unique codes to track and manage inventory.


Platforms: iPhone, iPod, and Android inventory control app for iOS and Android.
Price: FREE trial available with upgrade options that are paid, starting $75 per month.


CasherLive scans barcodes also create unique codes. Helps to track and manage inventory, integrates with QuickBook.

Zoho Inventory: Zoho inventory management software helps to keep better track of your business finances and customer Invoices.


Platform: Desktop, iOS, and Android.
Price: Range from $0 to $199.

The Zoho Inventory allows us to integrate e-commerce like Amazon, eBay and others to track stocks and orders.

topShelf Mobile Inventory: This is a cloud-based inventory management software integrates with accounting, CRM and e-commerce.


TopShelf Mobile Inventory gives you quick visibility of supply chains which includes iPhone barcode scanning.

Inventory Droid: This is an inventory management system for Android devices and phones. Best inventory app for small business use.


Inventory Droid itemizes the stock, creating multiple accounts that are password driven.

Barcode eXpress Pro: Barcode eXpress app helps to organize inventory items and information on your phone.


This app helps to manage inventory with tags, price, and quantity. Gives access to manual backup-restore.

On Hand: On Hand is an inventory tracking app.


Platforms: Designed for iPhone, iPad Touch, and Android.

On Hand captures barcode, giving detailed information for each item.

ComputerEase Inventory Control: This makes inventory management easy and is user-friendly. Mainly designed for the construction industry.


Price: FREE but requires a tie-up


ComputerEase Inventory Control turns your mobile devices into barcode scanners. Receives information and scan it detailed to the warehouse.

Delivrd: This is a free inventory tracker for your business. Delivrd is a web-based service.


Price: FREE but allows only one user and a location with only 10 products.
Plans to upgrade are available.

Cin7 Inventory and POS: This app comes with tons of bells and whistles.


Cin7 integrates with QuickBooks, Shopify, WooCommerce, BigCommerce.
Platform: iPad with Bluetooth barcode scanners.


Cin7 automatically creates a purchase order when it sees that you are running low on stock.

ASAP Passport App: This is an asset tracking app enabled by barcode, RFID and smartphone technology.


Price: FREE with a passport account.


ASAP Passport app scans barcodes for physical inventory.

Scan to Spreadsheet: Helps to create a spreadsheet using the barcode scanner on iPhone or Android phone. This is also a Best inventory app for small businesses.

GoCodes: Using GoCodes, one gets a complete solution including customizable web-based software. This helps you manage physical assets and track inventory using your smartphone.


Price: FREE for GoCodes software customers.

Fishbowl: This app is great for customers using QuickBook. Allows a barcode scanner and tracking.


Price: FREE Demo available. It's a one time purchase based on the no. of users and can be upgraded anytime.
Conclusion
From all the above, the 3 best inventory management apps are
Isopronto
Sortly
Zoho Inventory
Thus just to shortlist any app according to your need, shortlist the solutions the apps are providing, reviewing the features list and deciding an annual budget so that you can afford all the upgrades.