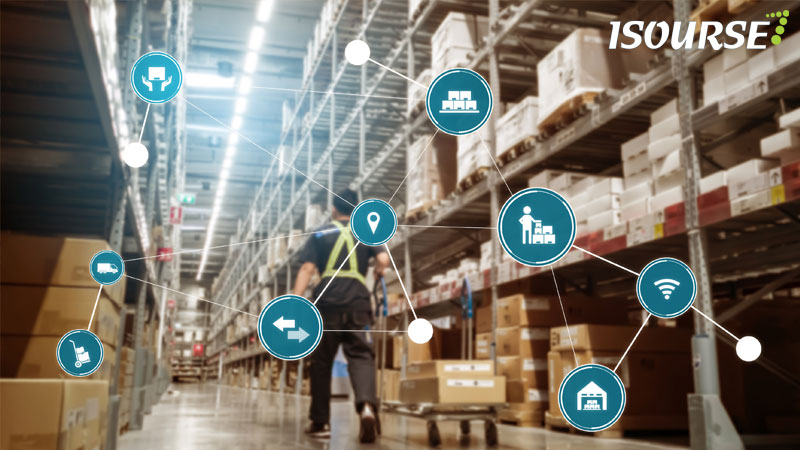 16 Best E-commerce Warehouse Management Systems of 2020
eCommerce or electronic commerce refers to the buying & selling of services or goods through the internet, and the transaction is done online. In simple terms, the sale of physical products done over the internet is known as eCommerce. For an eCommerce merchant, warehousing is a critical part of the supply chain for storage and fulfillment purposes.
ECommerce warehouse management system is termed as the storage of physical goods before sold online which includes storing the products safely with correct tracking, as when the goods arrived, how long they have been in the stock and the quantity on hand at any time. A good warehouse management system can help your e-commerce avoid many problems by automating the process and creating documents that are easy to audit.
When it comes to choosing the right eCommerce warehouse management system for your business one needs to understand the warehouse needs and the benefits of having an integrated WMS before starting the selection process. The essential features to look for in a WMS are listed below:
Integration with advanced barcoding technologies
Complete back-office integration with order entry, stock control, and purchase orders
Accommodating future business growth
Real-time inventory updates
Capable for e-commerce, which includes web store integration and B2B EDI Support
Compliance labeling
Reporting capability with advanced features
Automated inventory receipt and put-away
eCommerce Warehouse management system has to be implemented at all levels as below :
Small Scale ECommerce:
A Small scale enterprise includes a limited number of employees and a limited flow of finances and materials. One of the ways a small scale eCommerce can increase the profit margin is by integrating a warehouse management system that improves the overall warehouse performance. Efficient warehouses cost less to run which gives you more time to spend on growing your e-commerce business.
Small scale enterprise can use some of the below-listed eCommerce warehouse management systems:
(1) Fishbowl Inventory Software: It is a hybrid manufacturing and warehouse management tool with key features having inventory control, material requirements, planning, work order management, orders and bills. The software features automated batch and repair work based on lot and serial tracking. Fishbowl supports integration with e-commerce, shipping, merchant services and CRM systems such as QuickBooks, Shopify, etc.
(2) Odoo: Odoo is a fully integrated and customizable WMS including sales, CRM, project management, manufacturing, inventory, accounting, and other business needs. Odoo helps its users to reduce manual processes keeping all business functions in one place which allows the teams to collaborate with other departments from a single platform. Odoo offers a variety of modules and apps suitable for a variety of business needs.
(3) SkuVault: A cloud-based warehouse management software. SkuVault features warehouse management applications which include multi-warehouse inventory visibility, pick, pack, shipping process, product kitting. SkuVault integrates with other eCommerce software solutions such as Amazon, eBay, Walmart, Magento, QuickBooks. SkuVault is known for its quality feature that helps users to ensure that the orders are fulfilled correctly and also able to identify where an error has occurred during the order fulfillment process.
(4) Geneva Business Management Systems: Geneva Business management system is a cloud-based ERP application with the aspects of a desktop application giving the tools required by small-sized businesses to manage the business environment. Offers both an on-premise installation and hosted installation for full access via the internet. Modules offered by GBMS are distribution and warehouse management including 3PL, manufacturing and shop floor control, accounting, CRM, attendance, labor, e-commerce, reporting services, and QuickBooks.
(5) Chondrion Warehouse management: Designed with a focus on automation instead of manual intervention. Modules integrated are inventory management, supply-chain optimization, customer service, Point of Sale, Order management, multi-channel commerce, label printing and more. An all-in-one solution integrated with popular online marketplaces, advertising venues, shopping carts, carriers etc. Maintains distinct messaging for an unlimited number of brands.
Medium Scale ECommerce:
A business set up with 250 employees. A good eCommerce warehouse management system is comprised of tools needed to automate manual processes and save time, providing centralized control and visibility of all warehousing operations and inventory movement.
Some of the best e-commerce Warehouse management systems used by a medium scale eCommerce enterprise are listed below:
(1) LA WMS: LA WMS is a cloud WMS that focuses mainly on the small and mid-sized eCommerce, retail and 3PLs companies selling products through multiple channels. A strong WMS for multi-warehouse applications and even multi-client setup. Integrated with Walmart and Sears, joining many common ones like Amazon, Jet, Shopify. Support on the client portal which shares all the shipping details, order status, and even inventory will be useful for e-commerce and retail brands who are into expanding their businesses.
(2) 3DCART: 3dCart includes everything that is required to sell products online. Helps in creating, designing, marketing and managing your store with its in-built features. Allows to control offline and online payments, deal with inventories, set real-time, delivery options etc. A variety of check-out options are available. It offers unlimited storage to its users. Consist of good SEO features, which continuously updates its platform to offer the best services to its users.
(3) Lightspeed: World's most dominant eCommerce software. One can create their omnichannel shopping experience for your customers through its Point of Sale feature. LightSpeed gives all the retailers to have the complete command over their physical as well as on their online store. Easily manageable functions, multi-linguistic options, handles sales and customers from the system directly. The initial editing level is very easy, giving you unlimited bandwidth usage. Features include great SEO and social media marketing.
(4) Wix: Has gained its popularity because of its simple interface and an affordable price. One does not need to know any coding language while using Wix. Just drag and drop components and create beautiful online stores. Wix has more than 510 templates available for electronics, food and drinks, fashion, sports etc. Owing to these sort of features, Wix has gained more popularity among individuals as well as firms. Wix help center has a lot of articles and tutorials that guide you to create an online store. A FREE plan that never expires.
(5) Squarespace: Squarespace is a widely accepted SaaS eCommerce platform which has beautiful templates and designs, offers a great collection of themes. Templates are rich in their features covering a wide range of industries. The online store will look pretty good on mobile devices. The style editor in Squarespace gives various options that edit fonts, colors, images, sidebars, background images without any coding knowledge.
Enterprise Scale ECommerce:
Called as an Enterprise has very little to do with the no. of employees, no. of customers served or even the net revenue. An Enterprise Scale business has to do a lot more with the structure of your business.
Some WMS used by Enterprise-scale eCommerce is here as follows:
(1) BigCommerce: One cannot miss BigCommerce as it is among those sharks that rule the eCommerce today. SaaS-based software provides an easy interface to its users. The online stores built on BigCommerce have a great user experience. BigCommerce has a developed community of designers, developers, marketers, consultants and much more. The one thing BigCommerce is popular for is Themes which are advanced and have every feature a buyer needs. PSDCenter is a partner of BigCommerce.
(2) Shopify: Shopify allows you to set up an online store with complete ease. It comes with an entire eCommerce solution. The administrative interface of the store is English. There is something new about Shopify is Shopify Plus with advanced functionality which helps to grow your business by providing a large space of 2 terabytes of storage. As your team grows, you can create unlimited staff accounts.
(3) Magento: 2nd ranked eCommerce warehouse management system. It's an open-source eCommerce platform with many existing features with great exciting themes stored in it. Coding is an integral part of Magento. When it comes to customization there are endless possibilities. That's why Magento is mostly selected by big brands. One can even hire a good Magento Development Company and create a store with endless features. Many endless things you may do with the help of the Magento platform.
(4) WooCommerce: WooCommerce holds 11% of the eCommerce market, the biggest share in the world. It is a WordPress plugin that can turn any website into a fully functional online store. Features include inventory management, coupons, product pages, etc. WooCommerce offers customization, i.e., one can design the store of your dream and may create customize pages. Developers are always helpful to guide due to its open-source platform. These stores are compelling in terms of SEO performance.
(5) PrestaShop: Is a very popular WMS because of its customization features. Has an open-source shopping cart. One only has to pay for web hosting and other modules to complete the online store. Prestashop also has a hosted version called Prestashop Ready. PrestaShop is a hassle-free software, easy to install. Very friend interface. Its open-source platform means that anybody can start with it.
(6) iSourse Isopronto: This software is a pioneer in complete warehouse management system provided by in – house developed eWMS, with JIT Technology driven process & HHT based operations. Isourse's WMS software has advanced functionalities to manage & gain better optimization of resources & assets, plans operations & can manage the workforce which results in increase of output and productivity. Quality checks at Inbound and Outbound, efficient tracking, timely report and AI based functionality make it one of the most sought after WMS software that's currently powering E-Com giants like Grofers, Nykaa and Flipkart.
A Good eCommerce warehouse management system can save money, time and also keep the customers happy. In addition to mobile and online commerce, many suppliers and coming up through new channels like web storefronts and drop-ship programs, which brings in new challenges like returns, warranty programs and to provide value-added services such as discounted or even free shipping.
Conclusion
After an overall excitement and stress to run an online store, one cannot forget the eCommerce warehouse management system which makes a big difference to the bottom line of the business. A good inventory and warehouse management for an online store can help save money and time while one can look into customer expectations and expand the business.